Evan Davis's Newsnight debut pulls in 500,000 viewers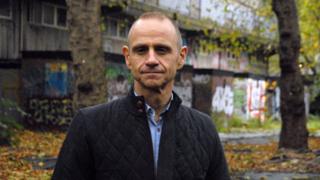 Evan Davis's debut as lead presenter of Newsnight attracted an average of 500,000 viewers - half the number who witnessed Jeremy Paxman's swansong.
The broadcaster, who has moved from his early morning role on Radio 4's Today programme, interviewed David Cameron as part of his first edition.
The Telegraph said the Prime Minister looked like he had "been through an unanticipated workout" with Davis.
The Daily Mail dubbed him a "pingy spritzer" to Paxman's "complex claret".
Reviewer Quentin Letts said Davis's clash with Mr Cameron was "certainly easier than arm wrestling with Paxman and removing his fingers from one's throat", in a nod to the broadcaster's famously adversarial style.
He added that Davis's line of questioning left the Prime Minister "a bit baffled that his interrogator should descend to such a level".
Davis, who was previously BBC economics editor, was given a smoother ride by The Guardian, which concluded that "his product launch seems likely to have encouraged high public and corporate confidence".
Mark Lawson made mention of his appearance, saying that it seemed likely to bring a more youthful feel to BBC Two's late night current affairs programme, which has been on the air since 1980.
"Gym-trim and with shaven head and micro-quiff, he impressively looked and sounded at least a decade younger than Cameron, who is actually his junior by five years," he wrote.
Davis is also the long-standing presenter of Dragons' Den, which he will continue to host.
He was previously attached to Newsnight as a reporter from 1997-2001.
Jeremy Paxman made his last appearance on the programme in June after 25 years.