EastEnders to reveal Lucy Beale's killer in live episode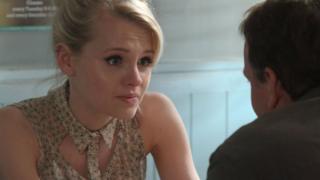 The killer of EastEnders character Lucy Beale is to be unmasked during a special live broadcast to mark the soap's 30th anniversary next year.
Lucy was found dead on Walford Common in April, but viewers will not discover the identity of her killer until the anniversary in February.
The suspects so far include Jake Stone, Jay Brown and Billy Mitchell.
Every episode that week will have a live element, with one 30-minute episode to be broadcast entirely live.
The plans mean many of the cast and crew will remain in the dark about the murderer's identity.
BBC drama controller Ben Stephenson said the 30th birthday schedule was "the most ambitious anniversary any soap has attempted".
"Live week allows us to keep loads of secrets from the cast, crew and the audience until the very last minute," he said.
"With shocking reveals and unguessable twists, it's going to be a week that will change Albert Square forever."
Lucy, the daughter of Ian Beale, has featured in EastEnders since her birth in 1993 and has been played by several different actresses, most recently Hetti Bywater.
BBC One controller Charlotte Moore said the anniversary would "bring the nation together".
"Next February will mark a massive event on the channel by creating the ultimate 'doof doof'" - a reference to the first bars of the show's famous theme tune - "and finally reveal who killed Lucy Beale."
EastEnders previously went live for its 25th anniversary to reveal the killer of Archie Mitchell, played by Larry Lamb.
After Archie was murdered on Christmas Day 2009, Stacey Branning was discovered to be the culprit during a live episode in February 2010.