Harry Hill to play Professor Branestawm on BBC One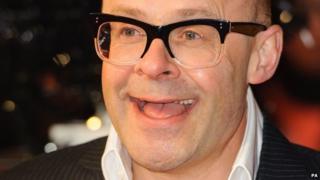 Comedian Harry Hill is to take on the role of children's literary character Professor Branestawm for a new BBC One drama.
The 50-year-old will star as the absent-minded inventor whose creations continually go wrong.
The hour-long film has been adapted from Norman Hunter's classic 1930s books by Fast Show actor and Young Bond writer Charlie Higson.
It is expected to be broadcast around the festive season later this year.
Set in a quintessential English village, the drama will see the professor in need of rescue after a health and safety obsessed local councillor labels him a dangerous nuisance and tries to kick him out of town.
'Best Christmas present ever'
Hill will star alongside Fast Show actor Simon Day and Getting On's Vicky Pepperdine as Branestawm's best friend Colonel Dedshott and housekeeper Mrs Flittersnoop respectively.
Ben Miller, Miranda Richardson, David Mitchell and Sophie Thompson will also appear in the drama.
"As a budding schoolboy scientist and inventor myself, I loved the Professor Branestawm books," Hill said.
"It's a thrill for me to be playing the prof in Charlie Higson's brilliant TV adaptation. Best Christmas present ever."
Higson, who will also star in the drama as the village mayor, said: "I loved Norman Hunter's Professor Branestawm books when I was a kid, and I loved reading them to my own kids, who found them as funny as I did.
"These were the books that inspired me to write comedy of my own, and I've always wanted to adapt them for the screen."
Professor Branestawm was created in by Hunter in 1933, who went on to write 13 books in the series until 1983.
The character was previously adapted for television by Thames TV in the late 1960s with Jack Woolgar in the title role.