Anthony Horowitz to write new James Bond novel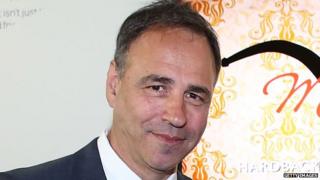 Anthony Horowitz, author of the Alex Rider teenage spy novels, has been invited to write a new James Bond adventure by the Ian Fleming estate.
Currently dubbed Project One, the book will be set in the 1950s and contain previously unseen Fleming material.
Horowitz said Fleming's hero had had "a profound influence" on his life adding: "This is a book I had to write."
The material, an episode treatment for an unmade James Bond TV series, takes 007 into the world of motor racing.
Entitled Murder on Wheels, the treatment will serve as a starting point for Horowitz's novel, to be published on 8 September 2015.
"When the estate approached me to write a new James Bond novel how could I possibly refuse?" said the 59-year-old, who was made an OBE in the New Year Honours.
"It's a huge challenge... but having original, unpublished material by Fleming has been an inspiration."
"In the 1950s, Ian Fleming wrote several episode treatments for a James Bond television series," said Jessie Grimond, the author's great-niece.
"But it never came to be made and he ended up turning most of the plots into the short stories that are now in the collections For Your Eyes Only and Octopussy and The Living Daylights.
"However, there are a few plot outlines which he never used and which, till now, have never been published, or aired.
"Given that Anthony is as brilliant a screenwriter as he is a novelist, we thought it would be exciting to see what he would do with one of them."
Set at the Nurburgring in Germany, Murder on Wheels would have seen 007 thwart a Russian plot to cause racing legend Stirling Moss to crash.
The treatment saw Moss appear as a character, with Bond's superior M and M's secretary Miss Moneypenny also featuring.
Horowitz, who resurrected Sherlock Holmes in his 2011 novel The House of Silk, is the latest in a series of high-profile authors to have penned new Bond novels.
Sebastian Faulks, Jeffery Deaver and William Boyd have also written "official" Bond novels, while Charlie Higson has penned a series of 'Young Bond' books about the character's teenage exploits.
While promoting his Sherlock Holmes novel The House of Silk in 2011, Horowitz suggested to the BBC News website he would be prepared to take on the task.
"I can't think of any other character in literature - except maybe James Bond - who would have tempted me," he said of Holmes, who will return later this year in his second Holmes novel, Moriarty.
"We are thrilled that Anthony has taken on the Bond mantle," said Ian Fleming's niece Lucy. "His knowledge of and enthusiasm for Bond... makes for a really exciting proposition."
Project One will be published by Orion in the UK and by HarperCollins worldwide.