Alice Gross murder inquiry: Grief in Hanwell as body found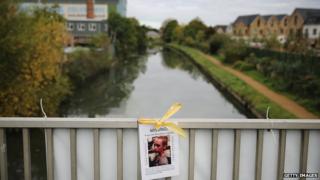 The people of Hanwell, west London, have been united in the past month during the search for teenager Alice Gross. On Wednesday came the news many had feared - that a body had been found and a murder inquiry launched.
As a helicopter passes over the clock tower at the centre of Hanwell, only a few heads look up.
It is a sight that has become all too common since Alice Gross disappeared over a month ago.
Yellow ribbons still hang in bows around the base of the tower and from nearly every lamp-post, placed there by members of this close-knit community who came together to search for the missing teenager.
But on Wednesday, some residents have been walking along the main streets, removing the posters of Alice that had become as prevalent as the fluttering ribbons.
Workmen near the town square gather around a newspaper, turned to a page bearing her image that explains the reason the posters may no longer be needed.
Outside Our Lady and St Joseph Church the news also spreads among the congregation.
"We're just absolutely shocked and saddened this has happened in our community," one churchgoer says, explaining she has been saying personal prayers for Alice and her family during the long weeks since she was last seen.
"I can't take it in. I regularly walk by the canal - I did that day, when she went missing.
"We feel devastated for her family. They're in our hearts."
The canal is a short walk from the centre but in the streets that border the water, the atmosphere is markedly different.
Pretty cottages are now behind police tape and, a short distance away, forensics tents have been erected and scenes of crime officers quietly carry out their work.
"It's a beautiful place - the canal is all of our back gardens. You don't find many places like this in London," notes Dashan Dakota, walking his dogs with wife Jacqui.
"Alice would have felt that too," he adds.
"We've even seen the suspect [Latvian builder Arnis Zalkalns] there a few times - I remember the dogs barking at him. That's how close we've been to this."
His wife said that in a way, there was relief a body had been found.
"There's a sense of it being over," she said. "But I have always walked by the canal with my 10-year-old daughter - she loves exploring. I don't know if I'll be able to now - I'll have nightmares."
They both remark on how everyone in Hanwell has been affected by Alice, with her parents being well known in the local area.
"It's been amazing to see the unity and the expression of concern over the past four weeks," said Mr Dakota. "Everything feels raw today. But now we can start to heal.
"The fact she was a talented musician really touched me, as I'm a guitarist. She had such a powerful voice."
Moved by Alice's disappearance, he wrote a song inspired by her and her love of music.
He shares some of the lyrics, perhaps especially pertinent on Wednesday.
"The summer will soon be over - and the bluebird won't sing that sweet song no more."