Electra: Kristin Scott Thomas thrills critics at Old Vic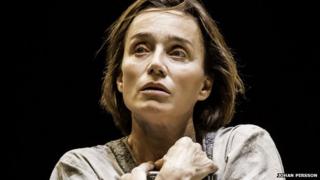 Kristin Scott Thomas has been lauded for her performance as Electra in a new production of Sophocles' ancient drama.
The Independent's five star review described the actress as "excruciatingly good".
Another five star review, in the Telegraph, called the play "a kill-for-a-ticket triumph".
The in-the-round production opened on Wednesday night and runs at London's Old Vic until 20 December.
The classic role sees Scott Thomas - famous for her elegant beauty - transformed into an unkempt figure stricken by grief.
"Her carven features luminous with famished, immature idealism, she flits about in her grey shift like the premonitory ghost of someone whose life was allowed to waste away, permanently on hold," said The Independent's Paul Taylor.
It was "an evening of unalloyed magnificence", he concluded.
The Telegraph's Dominic Cavendish said Scott Thomas's "tour de force" performance shed new light on her capabilities.
"We knew Scott Thomas, 54, was very good - increasingly so on stage... yet within 90 minutes or so, the erstwhile screen goddess propels herself into the first rank of theatrical titans."
---
By Tim Masters, Arts and entertainment correspondent, BBC News
Kristin Scott Thomas said that a visit to the archaeological ruins at Mycenae in Greece - where the events of Electra are set - had helped her get to grips with the role.
"Part of you feels a bit silly and guilty about doing it - and the other half is thrilled to be standing bare foot on the ground where this is supposed to be happening," she told the BBC after Wednesday's opening night.
"It's very exciting, even if you're a cynic."
The actress said she had always wanted to do the play after seeing the acclaimed production starring Zoe Wanamaker in 1998.
"The thought that something that was over 2,000 years old could have that effect on me was so profound, so I just wanted do it myself. I wanted to experience Sophocles.
"The things that he says are so old and so true and so relevant today - about relationships, renewal, revolution, war, loss, hope and ambition - it's the most powerful play. If something has survived 2,600 years it's got to be good."
Scott Thomas said that role of the mother-hating daughter required a "full on" performance from the moment she arrives on stage.
"I was worried I would feel very depressed doing this play, but I feel happier and happier.
"But I'm dreading my mother coming to see it, I must admit," she laughed.
---
The Guardian's Michael Billington, giving the play four stars, said Scott Thomas star gave "a psychologically perceptive study of a spiritually wounded woman".
"The great danger is that Electra can seem an exhausting monomaniac. But Scott Thomas, prowling round Mark Thompson's circular stage in front of the palace at Mycenae, lends the role colour and variety. With her shorn, straggly hair and hempen robe, there is no doubting her physical anguish."
Libby Purves wrote on her Theatrecat blog that Scott Thomas "roams and flickers like a dusty pillar of flame, distracted , angry, explosive, hurling herself to the ground in rage or grief, a tiny figure becoming the purest human distillation of all rage and misery".
The Mail's Quentin Letts was less impressed. "This is meant to be Sophocles, reaching into our viscera with his awful predicaments," said his two star review. "I'm afraid it simply feels like a high-falutin' episode of Midsomer Murders."
The story, adapted by Frank McGuiness, involves Electra and her brother Orestes avenging their father's murderers.
The production reunites Scott Thomas with Ian Rickson who has directed her in several other acclaimed productions, including Chekhov's The Seagull at the Royal Court for which she won an Olivier award.
The cast includes Diana Quick as Electra's mother Clytemnestra, Jack Lowden as Orestes and Peter Wight as the Servant.