Ed Sheeran's album X is 2014's biggest seller to date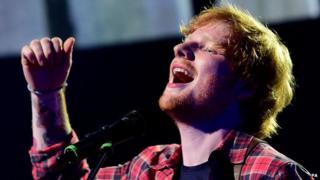 Ed Sheeran's album X has overtaken Coldplay's Ghost Stories to make him the UK's top-selling artist of 2014 so far.
Figures released by the Official Charts Company reveal that Sheeran's follow-up to 2011's + has sold more than 634,000 copies since its release in June.
That puts it ahead of Ghost Stories which has sold 470,000 copies to date.
Sheeran, who has enjoyed chart success in the US, said he was "so happy people have been enjoying my album so much".
The 23-year-old, who has been playing a number of dates in Dublin, said he was "looking forward to playing it live to my UK fans... next week".
Sheeran's record, which contains chart-stopping single Sing, sold more than 182,000 copies during its first week on sale and is currently the year's fastest-selling artist album.
Coldplay's sixth studio album has also been outstripped by Sam Smith's debut record, In the Lonely Hour.
The album has not been out of the top five since its release in May and has sold 487,000 copies to date.
Nine of the albums currently in the top 10 best sellers of 2014 to date are by UK artists.
The exception is GIRL from US musician Pharrell Williams.