Sir Peter Hall: A giant of British theatre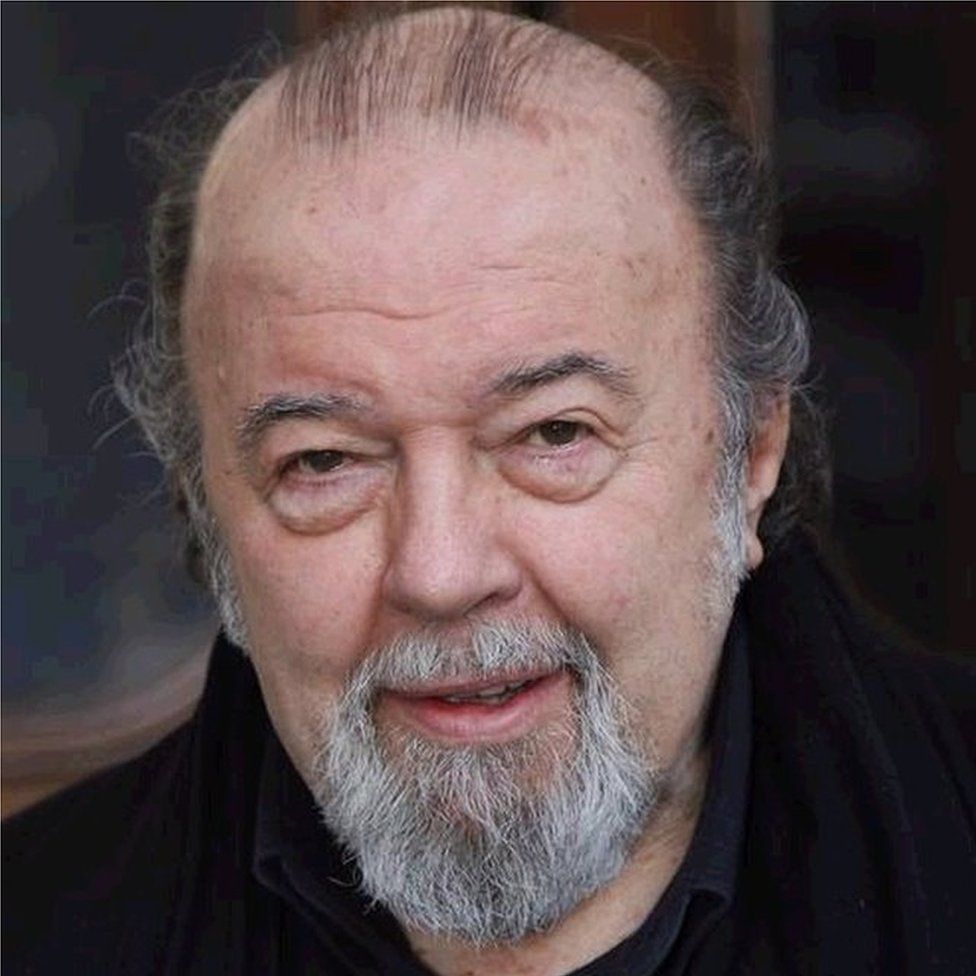 Sir Peter Hall was one of the great champions of British theatre.
In a career spanning seven decades, he acted, directed theatre and opera, and, occasionally, made forays into film and TV.
He founded the Royal Shakespeare Company and was director of the National Theatre for 15 years.
And he fought tenaciously to persuade governments of all colours to maintain public funding for the arts.
Peter Reginald Frederick Hall was born in Bury St Edmunds, Suffolk, on 22 November 1930.
His father was a railway clerk, later a stationmaster. The family was not well-off.
"People always giggle when I say that I grew up on a single-line railway station with no running water and no electricity," he told the Guardian in 2005. "But, in the 1930s, that's the way it was."
Sir Peter remembered his father as a man of little ambition, adding that it was his mother, Grace, who was the driving force in the family.
The daughter of a butcher, she had a sound belief in the principles of a good education and "getting on", and Hall inherited her drive.
The family moved to Cambridge, where Hall had his first taste of a public production - Mozart's Requiem in King's College.
He was immediately smitten and began staying regularly with a relative in London so he could attend the theatre and opera.
"I saw Gielgud's Hamlet when I was 12," he later recalled, "standing at the back for sixpence."
Although German bombs were falling on London, people crowded into theatres as an escape from the war, and he witnessed some of the greatest actors of the age.
Watching Ralph Richardson, Laurence Olivier and Peggy Ashcroft quickly convinced Hall that he wanted to become a theatre director.
"There wasn't any question in my head of doing anything else," he said.
Following a spell of National Service in the RAF, he won a scholarship to St Catharine's College, Cambridge, to study English.
In his third year, he booked a theatre and made his directorial debut with a performance of Jean Anouilh's Point of Departure.
"I remember an almost physical sense of release and pleasure rehearsing a play," he later recalled. "I thought, this is what I want to do."
His final play at Cambridge, Luigi Pirandello's Henry IV, brought him good reviews and an invitation to make his professional directorial debut at the Theatre Royal, Windsor, in 1953.
He also secured a job at London's Arts Theatre as a script reviewer. When the artistic director John Fernald left, Hall found himself running his own West End theatre at the age of 24.
Within weeks of beginning his tenure, the script of Waiting for Godot arrived. Hall was initially unimpressed.
"I haven't the foggiest idea what some of it is about," he told the cast. "But if we stop to discuss every line, we will never open."
In the event, Hall's production of what was the play's British debut had the effect of making him one of the most talked-about directors in the country.
He appeared on the BBC, was interviewed for Vogue magazine and was invited to direct the stage version of the musical Gigi.
That show starred the French actress Leslie Caron. She and Hall married in 1956.
But the biggest boost that Godot gave to Hall's career was the invitation to run the Shakespeare Memorial Theatre in Stratford-upon-Avon.
At the time, the theatre merely ran a regional Shakespeare festival - not nearly enough for the ambitious Hall.
The concept of a Royal Shakespeare Company was born in Hall's imagination, in which he envisaged a London theatre and a move into a wider range of drama.
He alternately bullied and cajoled the theatre management and eventually got his way. The newly-born RSC opened its first London season at the Aldwych Theatre in 1961.
Its ensemble cast - a relatively new concept at the time - included exciting young actors such as Peter O'Toole and Vanessa Redgrave.
He also recruited Trevor Nunn and later Peter Brook. The appointment of the latter led to the controversial Theatre of Cruelty season in 1964.
It was an exciting time both for the theatre and the wider arts world, and Hall revelled in the new socially liberal scene of the 1960s.
But the pressures were taking their toll after a series of mental and physical breakdowns.
His marriage to Leslie Caron had ended in 1965 after her affair with the actor Warren Beatty, and Hall later married his assistant, Jacky Taylor.
In 1968, he quit the RSC and briefly disappeared from the limelight.
For a time, he turned his attention to directing opera, both at Glyndebourne and the Royal Opera House in London's Covent Garden.
In 1972, it emerged that he had been offered the job of running the National Theatre, which was due to move into its new modernist home on London's South Bank.
His appointment attracted a great deal of flak, not least from those who had been passed over for the job.
Jonathan Miller referred to him as "a safari-suited bureaucrat" who would suck all of Britain's talent and cash into the new theatre.
Hall, never the most gregarious of men, was prone to rub people up the wrong way.
He was accused of theatrical class distinction, grovelling to the stars and treating lesser mortals with disdain.
However, others praised him for going into battle - not least to secure the funds the theatre needed to achieve a sound financial footing.
Not only did he have to contend with funding, there was also the problem of the building itself, which was behind schedule and over budget.
Hall finally got things under way in 1976 with a production of Beckett's Happy Days, before the unions walked out and closed the building down.
A year later he received a knighthood for services to British theatre.
But, after the early trials and tribulations, things improved. Sir Peter managed to successfully establish the theatre and sent the company out on a series of well-received foreign tours.
He quit the National in 1986. "I was ready to leave," he said. "Fifteen years is probably five years too long."
He continued to direct, highlights being his 1988 production of Orpheus Descending and a musical version of Ionesco's Rhinoceros, for which Hall wrote the lyrics and co-wrote the libretto.
Sir Peter was still working on the eve of his ninth decade, with a production of Pygmalion at the Hong Kong Arts Festival.
While his first love was the stage, he occasionally ventured into film and television.
Most of these forays involved classical plays and opera, although he did direct Channel 4's 1992 adaptation of Mary Wesley's novel The Camomile Lawn.
He was appointed director emeritus of the Rose Theatre, Kingston upon Thames, enticing Dame Judi Dench to appear in his sell-out production of A Midsummer's Night Dream in 2010.
After divorcing Jacky Taylor in 1981, he married the opera singer Maria Ewing in 1982.
The marriage ended in 1990 and he married his fourth wife, Nicky Frei, the same year.
Sir Peter Hall's great gift was that he excelled as an administrator as well as a theatre director.
"I love politics," he once said. "I do love committees, I do love getting things done."
His detractors saw him as a schemer and a manipulator, but there was little doubt about his talent as a director. He always preferred to act as an interpreter of playwright's work, rather than imposing his own concept.
The playwright Harold Pinter, many of whose works Sir Peter directed, was clear about his abilities. "I've seen productions of my work in various places that have really distorted the whole thing," he said.
"Peter never allows this. He doesn't impose, he discovers."