Mary J Blige's London love affair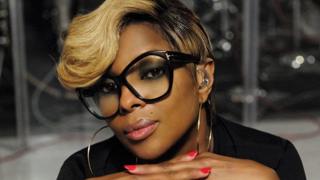 US soul singer Mary J Blige has worked with a host of young British musical talent to create her latest album The London Sessions.
Blige, who has nine Grammy awards and 20 years of experience to her name, has worked with the likes of dance duo Disclosure, Sam Smith and Emeli Sande to produce her latest opus in the UK.
The musician, crisply dressed, with her trademark blonde flick immaculately tousled and eyes shaded by large frames, explains how the London-leaning project came about.
"I did a remix with Disclosure which blew up over here and started trickling back to the States and doing well there. The idea was to do an EP with them.
"Steve Barnett [boss of record label Capitol] said why not take the whole idea and not just have them on the album but put you with some of the best talent, best writers, produce it in London and call it the London Sessions? That's how it was born," she says.
"I was out here for the whole summer. It's not my first time - I've grown to love London a lot and it's become one of my favourite places. This is my second home now because of having the chance to really embrace it, learn it and love it.
Blige says there is a considerable contrast between her native Brooklyn in New York City and the vibe of London.
"It's a different environment and atmosphere and there's the freedom to express myself the way I need to right now. There's a liberty here that there's not in the States. The radio stations and music are so diverse. It was a breath of fresh air for me to do that here."
---
MARY J BLIGE'S YOUNG BRITISH TALENT
Sam Smith
Sam is so humble, so sweet, so beautiful inside and out, so real, so down to earth - all these things that I just love. Obviously to him I'm all the same things. Sometimes I forget that I'm Mary J Blige who's been around all this time. Vocally and emotionally we both give everything.
Disclosure
It's amazing they're so young and they know so much about musical history. What they do is what I grew up on, there's nostalgia.
One of the reasons I work with them was what their music made me feel like when I first heard it. And when you put my voice on it you have what C+C Music Factory did with Martha Wash, you have Ce Ce Peniston and all that music from back then. Here we are again, history repeating itself.
Emeli Sande
She's amazing. She's super-mature but still a lot of fun. She's a beautiful person and it was a lot of fun working with her. She's smart and very educated.
---
Blige says that the London influence - and the contribution of her young collaborators - has created a whole new synthesis for her music, with an album that encompasses both heartfelt soul and thunking dance tunes, all of which show off the performer's rich vocals.
"The album is everything, it's evolution. It's Mary J Blige's ballads taken to another level. You have Nobody But You which is club music, but so emotional. This is a whole other thing that's happening here.
"If there's a London Sessions 2 then it'll come," she adds, emphasising that her work is going through a cycle of change.
"Right now I'm evolving, and whatever that brings that's new, I'm going to try it. I make sure things fit my personality. It's definitely about experimenting - I don't mind doing that - but you have to experiment in the studio and make sure it doesn't leave the studio if it fails."
The singer insists this isn't a sign that she has turned her back on home and her US core fanbase, citing the unbreakable musical link crossing the Atlantic.
"The US will respond to it well, because British music has always been intertwined with American music - Elton John came over back in the 70s to do Soul Train, Wham, Soul 2 Soul, Brand New Heavies. And now you have Sam Smith and Ed Sheeran. And the Rolling Stones is American music!
And the queen of hip-hop soul follows this up with a determined, impassioned speech, starting with: "I will never forget who I am.
"It's in my DNA, embedded in my head, in my walk, in my speech. I'm Mary J Blige. Where I came from will always be in my heart.
"People respect my evolution. That's why I'm still here. If I'd forgotten where I'd come from or turned my back on anything, then I wouldn't be around, then I wouldn't have my fans. Without them, I'm nothing."Meanwhile, the London and Brit talent connection can do Blige no harm in the UK, where she has scored five top 10 albums during her career - but has yet to secure a chart-topper.
But the star finishes on a lighter, London-centric note, recalling the city spots that made an impression on her during a summer making her album.
"Shoreditch!" she declares. "I had no idea that place was over there. It's like 14th Street, the meatpacking district. Just hanging out there in the day was great.
"And if you want to have a peaceful time, there's Greenwich Park with this gigantic hill. As you're climbing this hill there are all these clouds. And you get up there and there's this peace which descends on you. You sit on the bench and it's really quiet. Go up there."
The London Sessions by Mary J Blige is released in the UK on 24 November.