Broadway legend Marian Seldes dies at the age of 86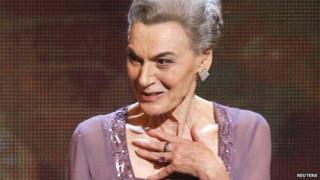 US stage actress Marian Seldes has died in New York at the age of 86 following a lengthy illness.
The Broadway legend was best known for appearing in every performance of Deathtrap during its four-year run, setting a Guinness World Record.
She made her stage debut in 1947 aged 17 in a production of Medea and won a Tony Award in 1967 for her performance in A Delicate Balance.
In 2010, Seldes was awarded an honorary Tony for her lifetime's work.
The actress garnered a total of five nominations for Broadway's leading theatre awards during her long career.
She was also inducted into the Theatre Hall of Fame in 1995, but missed the ceremony because she was on tour.
Seldes was a muse to US playwright Edward Albee, the writer of A Delicate Balance, and became a regular fixture in his subsequent work, including The Play About The Baby and Three Tall Women, which won a Pulitzer Prize for drama.
Her record-breaking run in Deathtrap cemented her place in Broadway history, gracing the stage for 1,809 performances between 1978 and 1982 without taking any holiday or sick leave.
However, her achievement has since been broken by actress Catherine Russell, who was in more than 11,000 performances of a New York theatre production of Perfect Crime.
Hinting at her unflinching dedication to her work, Seldes once said theatre "defines my life, gives it shape and form".
Known for her tall frame and liquid gestures, she was able to command the stage and told an interviewer: "I'm not what you expect."
Seldes also enjoyed some success as a screen actress, with roles in TV series Nurse Jackie, Frasier, and Sex and the City as Mrs Big.
But she made it clear in interviews that theatre was the chief focus of her acting career.
The native New Yorker also appeared in Murder, She Wrote with Dame Angela Lansbury, with whom she appeared for her final major Broadway appearance in 2007.
The actresses played a pair of former tennis professionals in a production of Deuce, which also marked Dame Angela's return to Broadway after a hiatus of 24 years.
Announcing her death, Seldes' brother Timothy said: "She was an extraordinary woman whose great love of the theatre, teaching and acting was surpassed only by her deep love for her family."