Winston Churchill paintings offered to nation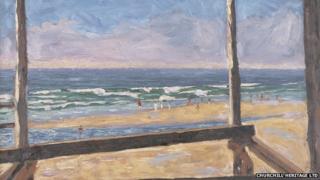 Thirty-eight paintings by Sir Winston Churchill are being offered to the nation, following the death of the politician's youngest daughter in May.
Most of the pictures are currently on loan to the family home, Chartwell.
In her will, Lady Mary Soames expressed the wish that the paintings remain there.
They have been on display since the home in Kent opened to the public in 1966, a year after the wartime prime minister died.
The art historian David Coombs described the paintings as "a national treasure of major historical and artistic importance".
They capture personal moments in Churchill's life, including intimate family scenes and his love of gardens and holidays abroad, particularly in France.
"They represent a side of Churchill that is rarely observed by the public," said Mr Coombs.
The Churchill family has offered the pictures to the nation in lieu of inheritance tax. A decision by the government on whether it will accept this deal is expected next year.
Lady Soames wanted another picture - Coast Scene near Cannes (1935) - to remain in the House of Commons, and another at the Imperial War Museum's Churchill War Rooms (View From a Bathing Hut at the Miami Surf Club, 1946), where they are currently on loan.
Churchill discovered painting when he was 40 and after that he rarely travelled without his paintbox. Painting helped him relax. It was "a friend", he once wrote, "who makes no undue demands".
He painted more than 500 pictures, which are now housed in museums and private collections around the world.
He also famously gave them away as gifts and tokens of appreciation.
Churchill gave Tower of the Katoubia Mosque to President Roosevelt, which was the only picture he painted during World War Two. President Truman and President Eisenhower also received views of Marrakesh.
He had no formal training. "When he was good, he was very, very good," said Mr Coombs. "But sometimes he wasn't."
His strength was landscapes and seascapes, rather than people.
In her will, Lady Soames also bequeathed her personal papers to the Churchill Archives at Churchill College, Cambridge, where they will become available for education and research.
Allen Packwood, director of the centre, said: "These unique resources complement the papers of Sir Winston Churchill and help complete our picture of the public and private life of the greatest Briton of modern times and those who were closest to him."
Many of Lady Soames' personal possessions will be sold by Sotheby's at auction in London in December.