Utopia not renewed for third series, Channel 4 announces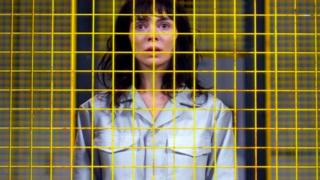 Cult thriller Utopia is not returning for a third series, broadcaster Channel 4 has confirmed.
The conspiracy drama, created by screenwriter Dennis Kelly, has been axed to make way for new commissions for 2015, the broadcaster said.
They called the show "channel defining" and "strikingly original" and said it would be "painful to say goodbye".
Utopia was criticised during its first series for a violent scene involving a primary school shooting.
The sequence was aired just a month after the Sandy Hook shootings in the US.
"It also has the honour of ensuring audiences will never look at a spoon in the same way again," added Channel 4, in reference to a torture scene involving the everyday item of cutlery.
Kelly had plans for subsequent series of the programme, which concluded its second run this summer.
Despite its demise on Channel 4, a remake for the US market is being made by cable channel HBO.
It is being written by Gillian Flynn, author of thriller Gone Girl, and will be directed by David Fincher, whose credits include The Social Network and the big screen adaptation of Flynn's novel.
The eerie, brightly-shot drama faced falling ratings during its second series, dipping from one million to around 650,000.
The story centred on a group of people hunted by a mysterious organisation over a rare cult graphic novel.