Imelda Marcos musical launches new Dorfman Theatre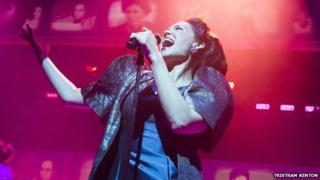 A musical based on the life of Imelda Marcos has launched the Dorfman at London's National Theatre to a mixed critical reception.
Here Lies Love, by David Byrne and Fatboy Slim, saw the former Cottesloe transformed into a disco space.
The Guardian's Michael Billington called it "a fine immersive spectacle", but said he was left "craving more" about the former Philippine first lady.
The Daily Mail said it was "brilliantly drilled" and "genre-breaking".
"It becomes little short of an instant classic for urban groovers," said Quentin Letts.
But he added: "I can't say I was emotionally involved once but perhaps that was never the intention. Novelty is the objective and it definitely takes musicals into fresh territory."
Actress Natalie Mendoza, who plays the pivotal role of the woman famed for her excesses - including a spectacular collection of shoes - was singled out for praise.
The Telegraph's Dominic Cavendish said she was "sensationally good as this self-styled queen of hearts", charting a course from "serene purity" into a "more snarling specimen" through numerous costume changes.
---
The view from the dancefloor
By Tim Masters, Arts and Entertainment correspondent, BBC News
You don't have to dance, but it helps.
With its nightclub set, Here Lies Love feels like genuine immersive theatre. For those with standing tickets, it's hard not to feel involved.
The audience is cast as Filipino citizens, watching the rise and fall of Imelda Marcos play out on multiple moving stages and giant screens.
The songs, by David Byrne and Fatboy Slim, range from exuberant to dark. As Imelda, the fine-voiced Natalie Mendoza is mesmerising as she transforms from beauty queen to first lady.
An hour into the show I spotted David Byrne near me in the crowd. I ended up next to him on stage doing some awkward disco moves.
A once in a lifetime experience.
---
She performed "in full-blooded voice [and] is stunning at every stage of Imelda's development," added The Independent's Paul Taylor.
He also touched on the immersive audience participation elicited throughout the course of the production, mainly from the "packed punters on ground level".
"The ground-level clubbers are commandeered to stand in for the Filipino crowds at rallies and the like," added Taylor.
He concluded that the musical marked an "auspicious opening" for the Dorfman, which has been renamed in honour of Lloyd Dorfman, a financial contributor to the National Theatre's major renovation programme.
The Times' Dominic Maxwell called the spectacle a "dancefloor Evita".
"If you examined this show in the clear light of day you would find parts of it trite. But this garish spectacular keeps the clear light of day at arm's length until the moment it is needed," he added.
The Evening Standard's Henry Hitchings also drew parallels with Evita, praising the show as an "intoxicating and technically inventive experience".