Breathing new life into The Cherry Orchard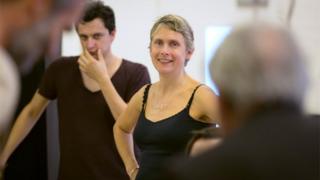 Chekhov's The Cherry Orchard, a much-produced masterpiece of Russian theatre, is coming to London's Young Vic under director Katie Mitchell. She says the thrill of her job is to assume the audience is coming fresh to the play's pleasures and challenges.
Anton Chekhov had four great masterpieces produced by the Moscow Art Theatre from 1898 - The Seagull, Uncle Vanya, Three Sisters and finally in 1904 The Cherry Orchard.
With her new production at the Young Vic, Katie Mitchell has now directed all four.
"The Cherry Orchard is the complete masterpiece of 19th-Century naturalism, although it appeared at the beginning of the 20th. So in my own 50th year I wanted to tackle the hardest naturalistic play ever written.
"A decade ago I was directing Chekhov at the National Theatre but really I wasn't ready to direct this play's fragile balance between realism and symbolism.
"By 1904 Chekhov was taking his work in a new direction. But in his mid-40s he was also dying and this play ended up his last will and testament. There's a long history of the play in the UK as quite a sweet and sentimental, soft piece. But in its original Russian setting I think it must have been an incredibly terrifying play.
"Of course we're not in Russia and it's more than a century later but we have to try to recapture that power it had for the original audience."
The play's basic story is straightforward. Heavily in debt, the aristocratic Lyubov Ranevskaya is faced with having to sell off the family estate.
She and her brother are reluctant to do so and fail to make moves to stave off their creditors. Eventually the estate, with its cherry orchard, is bought by Alexander Lopakhin who is the son of a former serf.
'Comic character'
Yet the play is not wholly naturalistic. Each director has to decide how to interpret the mysterious sound Chekhov describes in Act Two: "It is the mournful sound of a huge breaking string… it is overwhelmingly sad." The strange sound recurs at the play's close.
In the new production Lyubov is played by Kate Duchene and Alexander by Dominic Rowan.
Mitchell says the production design by Vicki Mortimer stresses the underlying desolation. "So there aren't samovars or silver birches or beautiful dresses. Those are conventions which have grown up over the decades the play's been known in Britain and I wanted to avoid them."
Hugh Skinner, playing the role of estate clerk Simeon Yepikhodov, says in rehearsal Mitchell was intent they should drop any performance conventions which no longer feel valid.
"Simeon is in some ways a comic character and a lot of what he says and does probably derives from Russian stage convention in 1904. But parts of that just don't work in 2014 so we worked to identify what's just convention and what's a truth. Falling over chairs or breaking a hat-box might seem more like farce to audiences today.
"I remember when I studied Three Sisters at A-level we were told Russians are histrionic and that's why in plays they cry all the time. But Katie doesn't let you hide behind generalisations: she wants to know why someone might cry at a particular moment.
"You're always trying to work towards a 360-degree world for your character. Katie works quite heavily on character biographies. So we decided Simeon might be accident-prone because he had an overbearing father and an ineffectual mother and now he suffers from mild depression."
After The Cherry Orchard, Hugh Skinner will return to a television part he adores: the likeable but hopelessly ineffectual production runner Will in John Morton's satire of life in the BBC, W1A.
So could there be an overlap between Will and Simeon Yepikhodov? "W1A isn't Chekhov but John's such a genius that at times there's a seriousness there and you get flashes of real insight into people's character which surprise you.
"If you're an actor you pray for great writing and what you learn playing Chekhov you can equally apply in something totally different on TV."
'Scrape the barnacles off'
At the Young Vic the cast are working with a new English-language version of Chekhov's play by Simon Stephens, currently the toast of Broadway for The Curious Incident of the Dog in the Night-Time. But couldn't Mitchell have used one of the many existing translations?
"We wanted to scrape the barnacles off the way the play is normally translated," she says. "We wanted to get to something much sharper and darker.
"In my mind I'm directing the play for the young at the Young Vic. So I'm assuming that the people don't know the play. I'm doing it as dynamically and cleanly and clearly as I can do for an audience of non-aficionados. If aficionados enjoy it that's a bonus."
Born in Berkshire, Katie Mitchell now spends more than half her working life outside the UK.
"I love working in Germany and France. They're slightly more intellectual than in the UK and audiences expect very sharp concept work from directors in particular. But even more than that it's a privilege to be among a fantastic group of directors such as Thomas Ostermeier, Ivo van Hove and Karin Beier.
"They're fantastic artists and I've raised my game working alongside them. But I also miss the lightness of touch you get in lovely Blighty."
The Cherry Orchard can be seen at the Young Vic until 29 November.