Delving in to the Russian classical archive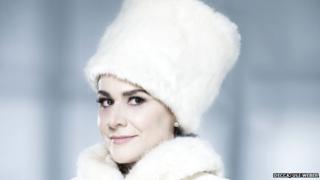 Italian singer Cecilia Bartoli is one of classical music's biggest recording artists, with 10 million CD and DVD sales to date worldwide.
For her latest album, the celebrated mezzo-soprano has delved into the archives at the Mariinsky theatre in St Petersburg to uncover an 18th Century flowering of opera under three Russian empresses: Tsaritsas Anna Ioannovna, Elizaveta Petrovna and Catherine the Great.
"What is fascinating is this music is written by Italian composers," says Bartoli, "but somehow they tried also... to understand the Russian soul."
There is a childlike enthusiasm to this international star as she explains how she came to be rummaging around in forgotten manuscripts in the Mariinsky library.
"This was a very very difficult process," she says.
"I knew that many composers went to St Petersburg, but to go to the library was a kind of mission impossible."
An American library had struck an exclusive deal to restore many of the items in the Mariinsky archives, and Bartoli was denied access.
"After a few years I went to St Petersburg four times," says the singer, "and finally I was able to go there and do the research.
"I found these incredible jewels, but it took me many, many years."
The music Bartoli brought into the daylight is a reflection of the cultural ambitions of three exceptional women.
When Russia's first great moderniser, Peter the Great, died in 1725, he was succeeded by his niece Anna. She imported German and Italian musicians who brought with them opera and ballet.
During her 10-year reign Anna transformed the Russian court, setting up a school which trained pupils in the performing arts.
Elizabeth, who seized power in a bloodless coup in 1741, made music an important feature of her court, and sang in her chapel choir.
Modernising work
Two decades later another coup - not so bloodless this time - brought Catherine the Great to the throne for a 34-year reign that stretched almost to the century's close.
Catherine continued the modernising work of her predecessors, and expanded the Russian empire. And although not musical herself, she invited foreign virtuosi to her court, and was careful to attend their concerts.
"The three Tsaritsas...understood how important it was to invite Italians and Germans to St Petersburg and build a collaboration with them," says Bartoli.
"They really understood the importance of culture and exchange of cultures.
"I think it's a message for today, no?" asks the singer, suggesting the recordings are "a little contribution to peace".
The Italian composers championed by Bartoli arrived in Russia seeking fame and international recognition.
But although Francesco Araia was the first composer - at the Winter Palace in 1736 - to have an opera performed in Russia, he, and the other composers featured on Bartoli's album, are almost unknown to modern listeners.
"It's hard to believe, but it was the same for the music of Handel, who is today one of the most famous baroque composers," says the singer, explaining that by the beginning of the 20th Century the great composer's work was almost forgotten.
"Some musicians started to rediscover this music... and we have to thank the musicians who did the work because today we can hear the beautiful music of Handel," she says.
"I hope it's going to be the same with the music from St Petersburg."
Unlike Giuseppe Verdi - who composed his opera, La Forza del Destino, at the court of the Tsaritsas - the music written by Bartoli's rediscovered Italians has been languishing - unsung - for 200 years or more.
They have been neglected, the singer laughs, "but maybe tomorrow (they) will become famous."
With the backing of an artist of Bartoli's extraordinary selling power (her album was launched at the Palace of Versailles, no less), that's not out of the question.
"I really believe in the quality of the music," she stresses, "and more than that, the music speaks to my soul."
"This music is so beautiful and so touching I must share these beautiful jewels with my audience."
'New adventures'
Among the 11 world premiere recordings collected on Bartoli's album, are two that see her break new ground on a personal level, singing in Russian for the first time.
"This was such a challenge to me to learn in Russian and to sing in the Russian language.
"But at the same time I found (it) so interesting to have original Italian music in original Russian text," she says.
It was a challenge, Bartoli points out, but one she enjoyed taking on.
"It's part of my character, that's why I love new adventures," she laughs.
"I'm a kind of Indiana Jones, always ready for new adventures - musical adventures - yes."
The album, Cecilia Bartoli - St Petersburg, is out now on Decca Classics.