Joan Rivers died of brain damage concludes post mortem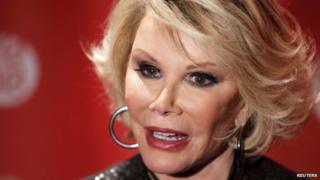 Comedian Joan Rivers died of brain damage from low blood oxygen, the New York medical examiner's office has ruled.
The star died on 4 September aged 81 after being on life support for a week following a cardiac arrest during a medical procedure.
The death was classified as a "therapeutic complication", meaning it was a known risk of the procedure.
Negligence is not suspected and was not listed as a contributing cause.
The medical examiner listed the official cause of death as anoxic encephalopathy due to hypoxic arrest - a condition caused when brain tissue is deprived of oxygen leading to brain damage.
Rivers had been sedated with the anaesthetic propofol during her outpatient procedure examining the back of her throat and vocal cords.
She was taken to Mount Sinai Hospital after she stopped breathing, where she was put on life support.
'Russian roulette'
Hypoxia and cardiac arrest are rare side effects of propofol, but patients usually sign a waiver before surgery to confirm they understand the risks.
"I always tell my clients when they come through here, every time you have surgery you're playing Russian roulette," medical malpractice lawyer Steven Harris told Associated Press.
"The more surgery, the more the numbers can catch up with you - and as we know, Ms Rivers had a lot of surgery."
The medical examiner's ruling, however, does not prevent Rivers' family from filing a legal claim against the clinic where the procedure took place.
Rivers' daughter, Melissa, said she had no comment on the ruling.
"We continue to be saddened by our tragic loss and grateful for the enormous outpouring of love and support from around the world," she added.