Russell Brand in Michael Winterbottom financial crisis film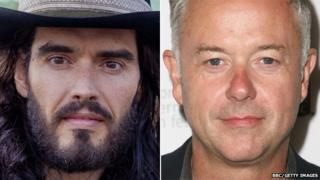 Comic Russell Brand is working with British director Michael Winterbottom on a documentary about the global economic crash.
Winterbottom described the film as "a polemic" which will examine "why nothing has changed" since 2008.
"It's about inequality and why the 1% [of the world's wealthy] seem to have so much and the rest of us not quite so much," he told BBC Radio 4's Front Row.
He said with Brand's involvement, he hopes "it's going to be funny".
"Everyone knows about equality and what's going on in the world, so the idea is to point out the ludicrous extremes of our society," Winterbottom said.
The director added he had been trying to work with Brand for a while and became a fan of his writing after reading the comic's 2007 memoir.
"I tried to work with him ages ago when he first wrote Booky Wook and we talked to him about doing a more dramatised version but it didn't happen," he said.
"So this is a chance after a lot of years to have another go."
Winterbottom said although filming on the documentary had begun this week, it would comprise of mainly archive footage.
The director is currently promoting his latest project - The Face of An Angel, inspired by the murder of British student Meredith Kercher - at the London Film Festival,