Lorraine Kelly show disrupted by fire alarm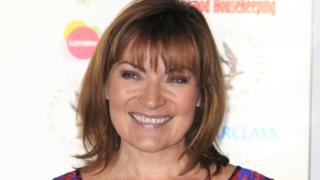 Lorraine Kelly's ITV show was briefly taken off air on Monday after a fire alarm forced the live show to evacuate its studio on London's South Bank.
Producers cut to an ad break as Kelly and staff filed outside and the final few moments of Lorraine were replaced by a documentary.
The TV presenter apologised to fans on Twitter to explain her absence.
"So sorry. We had to evacuate the building," she wrote, adding: "First time in 30 years."
Kelly had been about to interview eliminated X Factor contestant Stephanie Nala when they were interrupted by the alarm at 09:10 GMT.
An announcement in the studio said: "Your attention please, the building is being evacuated."
Kelly attempted to carry on as the alarm rang out, admitting: "I'm not quite sure what is going on."
She told viewers: "I'm sorry about all this. It's live television - anything can happen."
The end of the programme, which also featured Nadia Sawalha and Michelle Heaton, was replaced by a documentary about the National Trust.
A spokeswoman for Lorraine said: "An alarm was raised within ITV this morning and the area was immediately evacuated. Once it had been investigated and deemed safe, people were able to re-enter the building."