Lynda Bellingham: Tributes paid to 'courageous' actress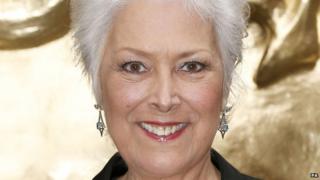 Tributes have been paid to actress and presenter Lynda Bellingham, who has died at the age of 66.
The star, best known for her long-running role as a mother in the Oxo TV adverts, had been battling colon cancer since being diagnosed in July 2013.
Christopher Timothy, who played Bellingham's on-screen husband in vet drama All Creatures Great and Small, told BBC Breakfast: "She was a real friend. She was a life force. She was funny, she was loyal, talented and a great mum.
"On set, she was 'one of the boys' - she was naughty and funny. We've all been expecting it, but it is so unjust she didn't make her last Christmas as was her intention.
"Her honesty and her upfrontness was exactly what one knew and what you expected, but [her honesty about her illness] made it more painful. When people state things as they are, rather than colour it, is much more moving."
---
Michael Redfern, Bellingham's co-star in the Oxo adverts in the 1980s and '90s, told BBC News Bellingham was "amazing to work with".
"It was good fun to do as well," he said. "It's very hard not to get on with Lynda… everybody liked her, she knew everybody. She knew all the crew by name. She was a people person."
Speaking about her broad appeal, he said: "I think she was just normal, she was like the lady next door, the wife, the mother… she just had everything. Lynda never left the room quietly. She was a very jolly, open person.
"I hadn't contacted her initially as I didn't want to intrude… I was trying to get together a letter to send to her and then this happens... I didn't know what to say."
---
Denise Welch, Bellingham's friend and co-star on Loose Women, told BBC Radio Ulster's Nolan show, said she and several other of the show's panellists visited the actress at her home last week.
"She got us chocolate cakes in, she was still the mother hen... it was quite obvious that she was very, very tired but none of us thought that the end was quite as close as it was. We were late getting to the house, we rang the intercom and she said: 'Bloody hell, a woman could die waiting for you lot!'
"It was a room full of love, we laughed 'til we cried and we were all thrilled.
"Lynda turned everything into a positive. She's left a wonderful legacy. She was one of the best character actresses this country has known," Welch added.
---
Actor and TV personality Christopher Biggins told Loose Women on Monday that "it's been a very strange day".
"She was such a good friend, there was the wonderful day she got her OBE, 20 of us went for lunch.
"Last night was a very difficult night but I went to bed laughing, thinking of a joke she would tell over and over again."
---
Darren Bennett, who was Bellingham's dance partner on Strictly Come Dancing in 2009, told the BBC he was "very, very sad" to hear the news.
"My thoughts are with her husband and family," he said. "They were always very supportive of everything she's ever done. For them it must be devastating.
"We worked together for a short time on Strictly but she was a massive part of the show that year. It was an honour and a privilege to work with her. It was very nice to get to know her, she was a very, very nice lady, very professional.
"She was great fun, very enthusiastic. As a consummate professional… she knew how hard she had to work. She is known by the nation and she will be remembered for a very very long time. She left a very big footprint that we'll see forever."
---
Kaye Adams, who worked with Bellingham on Loose Women, described her co-star as "courageous" on BBC Radio 4's Today programme.
On Bellingham's choice to give up chemotherapy, Adams said: "Everyone had enormous respect for her decision."
She said the star was "an incredibly courageous person and incredibly humorous despite facing such an awful situation and with great care and regard for other people".
Adams went on: "She said on numerous occasions she never thought she was the only one and her concern was for other people who were also going through similar circumstances.
"She was fun - one of those people who when she walked into a room everything lit up. I fear going into cliches but in this case it's absolutely accurate and true.
"She just had such an energy and dynamism. You were always pleased to see her and you always felt she was pleased to see you, which was a fabulous thing to be able to do. She always left you feeling better about life."
---
On Twitter, Loose Women issued a statement saying: "Our thoughts go to #lyndabellingham's family at this incredibly sad time and to all those whose lives she touched so deeply, as she did ours."
Speaking on ITV's Lorraine show, fellow Loose Woman Nadia Sawalha said: "We're just all heartbroken because her real, her last wish was that she would spend this Christmas with her family.
"Anyone that knew Lynda and knew her well, knew that she was this absolute livewire. She would come into a room and light the place up. Everybody loved her.
"She got me my first ever job on the Oxo ads. I played her son's girlfriend. She was a brilliant actress and she moved me to tears many times. She will be so, so sorely missed by so many of us."
---
Actor Simon Pegg was also among those paying tribute on Twitter, writing: "Lynda Bellingham, a gorgeous, brassy, funny, generous, talented human being.
"My first TV mother figure and and a treasured friend."
TV presenter Ben Shephard wrote: "So so sad to hear that the gorgeous Lynda Bellingham has passed away. She was just wonderful to be around and will be sorely missed."
Actress and presenter Amanda Holden said she was "devastated to hear the news".
Kirstie Allsopp also paid tribute on Twitter, writing: "She was an inspiration, she so wanted to make it to Christmas, if you're working towards that, don't give up hope."
Comedian Sarah Millican said she was "so sad" to hear the news, adding: "What a great woman. Smart and spirited."