BBC Trust boss Rona Fairhead backs licence fee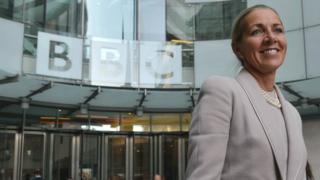 Rona Fairhead, the new head of the BBC Trust, says she believes the licence fee is the best way to fund the BBC.
Speaking in front of MPs on the culture, media and sport committee, Ms Fairhead said the public was also broadly in favour of the fee.
"I think that is because of the independence it gives and the sense of impartiality which I think is critically important," she said.
The licence fee is currently frozen at £145.50 per year.
Ms Fairhead acknowledged the fee was "a large amount of money for a lot of people in this country.... [so] it has to be value for money."
The former head of the Financial Times group, who began her new job 10 days ago, did not rule out subscriptions for some programming alongside the licence fee.
"There would be logistical issues. But the BBC should be trying to use sources of funding to get value for money. The Charter Review should look at all other sources of funding we should be looking at."
'More for less'
The BBC Charter, which sets out its remit, is up for renewal at the end of 2016. The review process will take place over an 18-month period beginning in June 2015.
Ms Fairhead suggested the next licence fee settlement should be set for 10 years, as it is now.
"[It gives] more certainty. You can give more creative freedom," she said.
When asked if the £3.7bn a year the BBC receives distorted the market, Ms Fairhead admitted there was "some impact".
But she added: "The aim is to not distort but to enhance the competition. It's a robust, vibrant market which I think the BBC contributes to, not distracts from."
The committee of MPs also questioned the secretary of state for culture, media and sport, Sajid Javid, on the possibility of decriminalising non-payment of the licence fee.
Earlier on Monday, Mr Javid announced the review of TV licence enforcement would be led by David Perry QC and would conclude in June next year.
The review, announced last month, comes amid concerns about the number of people appearing in court for evasion.
Mr Javid said: "The licence fee regime was put in place a long, long time ago. 200,000 people got a criminal record, 50 people went to jail [in 2012/13]. This raises concern."
On the cost of the licence fee, Mr Javid told the committee: "The licence fee was frozen in 2010... it shows the BBC is capable of doing more for less."