Enid Blyton's Magic Faraway Tree set for cinema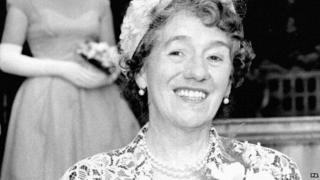 Enid Blyton's Magic Faraway Tree books are being adapted for cinema for the first time.
The books are being developed for a live action film version by Sam Mendes' production company, Neal Street Productions.
The stories follow a group of children and their adventures at the top of a tree in an enchanted forest.
Blyton, who died in 1968, wrote the four books in the series between 1939 and 1951.
The characters in the stories included Silky the fairy, Moonface, Dame Washalot and Saucepan Man.
'Much loved'
"As a child I was captivated by The Faraway Tree books, and the magical worlds created by Enid Blyton," said Neal Street Productions' Pippa Harris.
"Re-reading the books today with my daughter, they completely retain their power to enchant. To be able to adapt these books for the big screen and introduce them to a new audience is a great honour."
Marlene Johnson, head of the Enid Blyton Estate, said: "Enid Blyton was a passionate advocate of children's storytelling, and The Magic Faraway Tree is a fantastic example of her creative imagination.
"It's a much loved title, so we're very excited to announce we've signed an option agreement for development with Neal Street Productions.
"Many generations have grown up with The Magic Faraway Tree and today's news provides a great chance to share the wonder of these stories through a new medium."
Blyton is one of the world's best-selling children's authors and her books have sold in excess of 500 million copies.
The four novels that have been optioned for film adaptation are The Enchanted Wood, The Magic Faraway Tree, The Folk Of The Faraway Tree and Up The Faraway Tree.
Previous films from Neal Street Productions include Oscar-nominated Revolutionary Road, Starter for Ten and Jarhead. It also makes Call The Midwife, The Hollow Crown, and Penny Dreadful for TV.