Teenage Mutant Ninja Turtles tops UK box office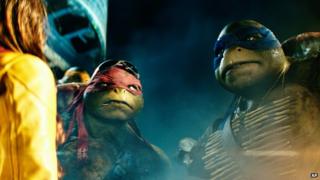 Teenage Mutant Ninja Turtles has topped the UK and Ireland box office, ending Gone Girl's two week run at number one.
Despite being branded "total turtle turkey" by The Guardian and "dreadful" by The Telegraph, the Michael Bay-produced reboot starring Will Arnett and Megan Fox opened with £4.79m.
David Fincher thriller Gone Girl, starring Ben Affleck, took £2.36m.
Pre-Halloween horror Annabelle was in third with £1.47m, ahead of young adult drama The Maze Runner in fourth place.
Romance The Best of Me starring James Marsden - the latest adaptation from Nicholas Sparks of The Notebook fame - took £636,842 in its first week.
The week's other new releases appeared at the bottom of the week's top ten.
Courtroom drama The Judge, starring Robert Downey Junior and Robert Duvall, was in ninth place after taking £420,720 and independent drama Northern Soul was in tenth place with £278,829.
UK and Ireland box office top five
1. Teenage Mutant Ninja Turtles - £4.79m
2. Gone Girl - £2.36m
3. Annabelle - £1.47m
4. The Maze Runner - £1.46m
5. The Best of Me - £636,842