S Club 7 reunite for Children in Need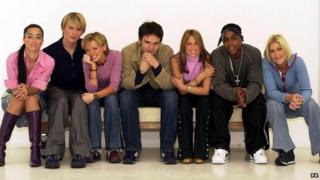 Pop group S Club 7 are to reunite for the first time in more than a decade for Children in Need next month.
Tina Barrett, Paul Cattermole, Jon Lee, Bradley McIntosh, Jo O'Meara, Hannah Spearritt and Rachel Stevens will perform a medley of their greatest hits on the BBC appeal show on 14 November.
The group recorded the charity's official single in 2000, Never Had a Dream Come True, reaching number one.
"This is going to be the mega S Club party of all time," the group said.
"We're massive fans of BBC Children in Need and it was great to be able to support the charity all those years ago.
"We're really looking forward to bringing it all back for Pudsey, for BBC Children In Need and for all our fans who have been so great over the years."
The group also released a second Children In Need single in 2001, Have You Ever, which also topped the UK chart.
S Club 7 formed in 1998 and rose to fame in their own children's TV series, Miami 7, broadcast on BBC One.
In 1999, they released the theme tune to the show, Bring It All Back, which became their first UK number one single.
Their debut album S Club followed, reaching number two in the chart, followed by another three studio albums spawning 11 hit singles in total.
After Cattermole left the group in 2002, the remaining six members continued under the name S Club.
In April 2003 they released a feature film, Seeing Double, but shortly after its release the band announced they were splitting up.
Stevens went on to become a solo artist, scoring five top 10 singles between 2003 and 2005 before appearing on Strictly Come Dancing in 2008, finishing in second place.
Spearritt pursued an acting career, appearing in ITV drama Primeval, while Lee took to the West End stage starring in Les Miserables and Jersey Boys.
Barrett has since predominantly kept away from the spotlight, but O'Meara, McIntosh and Cattermole have performed together on the pubs and clubs circuit as S Club 3 for the past six years.