Neville's Island play makes a splash in West End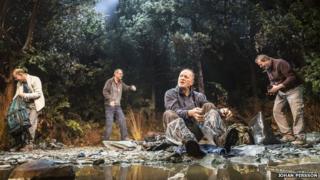 Actor Neil Morrissey has described the set of his new West End comedy Neville's Island as the most uncomfortable he has ever worked on.
The stage of London's Duke of York's theatre is transformed into a rain-soaked island in the Lake District.
Tim Firth's play follows four middle-aged middle managers who get stranded during a team-building exercise.
"It's a very uncompromising set," said Morrissey. "It's all shale and rocks and those are real trees."
He added: "Everyone gets nicks and cuts throughout the whole show. It's the most uncomfortable set I've ever worked on."
Morrissey, who plays ineffective team leader Neville, co-stars alongside Adrian Edmondson, Robert Webb and Miles Jupp.
All four actors have to immerse themselves in water before the play begins.
"It's the wettest play I've ever been in," Peep Show star Webb told the BBC after after Tuesday's opening night.
"We all take it in turns to get into a large heated tank of water before we go on stage. We really are completely soaked to the bone."
Edmondson said it was "about the fall of civilization", adding: "It's Lord of the Flies meets The Office."
He described the set as a "harsh environment" with "real insects buzzing around backstage".
Audience members in the front row are given plastic macs to stop them getting soaked.
"They know what they are letting themselves in for - but they don't quite know when it's coming," Edmondson said.
First staged in 1992, this production of Neville's Island, directed by Angus Jackson, ran at Chichester Festival Theatre in 2013.
It is now running at the Duke of York's Theatre until 3 January.
---
Reviews round-up
"Owing to all that standing water, the auditorium of the Duke of York's smells like the aquarium at a bad zoo. Pongeroo." Quentin Letts, The Mail
"The play is often very funny but there is something a bit ersatz and glib about the expertise with which it produces gales of laughter while efficiently moving towards its final vision of tragi-farcical futility," Paul Taylor, The Independent
"After a while, no one in the theatre could have been yearning to get off Neville's Island more than me. It feels like a rather feeble comedy sketch that had been stretched out of all recognition into a two-and-a-half-hour play." Tim Walker, The Telegraph
"Firth makes some sharp points about male insufficiency but I get the sense of a good 90-minute idea being stretched to fill the requisite two-act running time." Michael Billington, The Guardian
"It's Firth's lasting achievement that he's nailed so many macho myths in one delirious, slightly implausible scenario. And his show deserves to succeed all over again as an old-fashioned popular West End comedy." Michael Coveney, Whatsonstage.com