New BBC Radio 3 controller 'will not dumb down'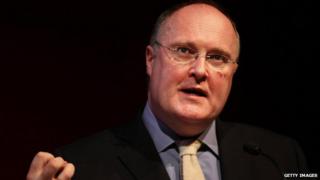 The new controller of BBC Radio 3 has said it will continue to offer "complex culture" despite being overtaken in the ratings by digital station BBC 6 Music.
Alan Davey, currently chief executive of Arts Council England, said Radio 3 would follow that organisation's lead by "wising up", not "dumbing down".
Listening figures released in July had Radio 3's weekly reach averaging 1.884 million listeners, to 6 Music's 1.89m.
Mr Davey, however, said the shortfall did not represent "a trend".
"It's one quarter's listening figures we are talking about," he said of the audience figures from industry body Rajar.
Speaking on BBC Radio 4's Today programme, Mr Davey said he would make sure Radio 3 continued "doing what Radio 3 does best - offering complex culture, arts and ideas within the reach of lots of people".
"That's what the original Third Programme did beautifully," he went on, making reference to the Radio 3 predecessor that broadcast from 1946 to 1970.
"But what the original Third Programme didn't do was offer people context... a way of approaching the complex culture that's offered.
"If you do complex culture properly, it makes sense to people," continued Mr Davey, who will move to the station in January after seven years at Arts Council England.
His role includes overseeing the BBC's six performing groups, though he will not be director of the BBC Proms like his predecessor Roger Wright.
London 'bias'
Speaking on Wednesday, Mr Davey also defended charges that organisations based in London receive a disproportionate amount of Arts Council funding.
"I wouldn't say it was a London bias," he told the BBC's Sarah Montague. "But you're right - there is still more to do to get more things happening outside London."
However, he continued, it was "not just a matter of spraying money around and hoping something will grow - you have to do it carefully.
"We've just done our resource allocation and we've put things in the right direction by a couple of percentage points.
"But what you don't do in a time where money's getting less is something very quick and impulsive.
"We know from where we've put lottery money in and it has failed... [because] there's no grass roots foundation to it."
Mr Davey cited the example of the £15m National Centre for Popular Music in Sheffield, which opened in March 1999 only to close the following year.