Stolen art by 'female Banksy' sought by police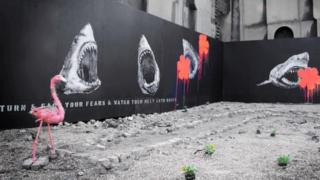 Police in north London are appealing for help to trace stolen artwork by an artist dubbed "the female Banksy".
Known as Bambi, the artist created five black and white shark murals on panels on an Islington building site that were to have been auctioned for charity.
Police said that the stencilled images, estimated to be worth at least £20,000, were stolen between 18:30 on 8 October and 09:30 on 9 October.
They were due to be auctioned for the charity Art Against Knives.
The charity was set up in response to the stabbing of Central St Martins art student Oliver Helmsey in August 2008.
The 6ft (1.8m) by 4ft (1.2m) wooden panels also featured flower shapes in bright fluorescent pink.
Anyone with information as to their whereabouts should contact police in Islington on 101 quoting reference CRIS 2723485/14.
They can alternatively contact Crimestoppers anonymously on 0800 555 111 or via the Crimestoppers website.
Bambi came to public attention in 2011 following an image she created of the late Amy Winehouse on a Camden Town doorway. Robbie Williams, Angelina Jolie and Adele are believed to have subsequently purchased her work.