Matt Lucas to host International Emmy Awards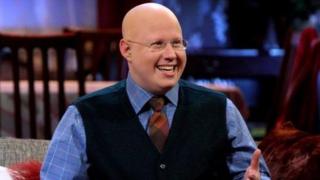 British comedian and actor Matt Lucas it to host this year's International Emmy Awards ceremony in New York.
International Academy of Television Arts & Sciences president Bruce Paisner called the Little Britain star "one of the most talented comedic performers and writers of his generation".
He said: "We're delighted to have him headlining the International Emmys." The awards take place on 24 November.
The International Emmys celebrate TV production outside the US.
Lucas is best known to global audiences for appearing in films such as Bridesmaids and Alice in Wonderland.
The comedian is due to star in a new series, Pompidou, on BBC One later this year. The six-part series, which does not feature any dialogue, casts Lucas as "an elderly aristocratic English oddball who has fallen on hard times".
Doctor Who drama
Broadchurch actress Olivia Colman is among the nominees for this year's International Emmys.
Another Briton, Game of Thrones actor Stephen Dillane, has been nominated for best actor for The Tunnel, the English-language remake of Scandinavian thriller The Bridge.
The BBC's drama about Doctor Who, An Adventure in Space and Time, starring David Bradley as the first Doctor William Hartnell, is up for best TV movie.
Mad Men writer and creator Matthew Weiner will receive the 2014 International Emmy Founders Award at the ceremony.