First John Barry film music scholarship for Mitchell Tanner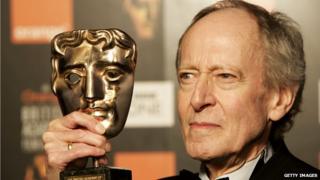 The Royal College of Music has awarded the first John Barry Scholarship for Film Composition to budding soundtrack composer Mitchell Tanner.
The scholarship was established by the legendary James Bond composer's widow Laurie Barry, who presented Tanner with the award at a reception in the RCM.
It was funded by a memorial concert held in honour of the Oscar-winning composer, who died in 2011 aged 77.
Tanner, 22, will be funded to spend two years on an RCM composition course,
He was also presented with a letter of support from legendary music producer George Martin, who was unable to attend.
Tanner, from Essex, said he was "overwhelmed" by the award.
"I grew up listening to the masterful scores of John Barry, and he has been a hero of mine ever since I was a child. It is a real honour to receive this scholarship in the name of such an immense figure," he said.
He added that he hoped to prove himself "worthy of representing John Barry's reputation and legacy".
Tanner will be funded to spend two years on the Royal College of Music's Composition for Screen course, where he will be taught by leading composers and film experts.