Arab road trip movie tackles stereotypes and taboos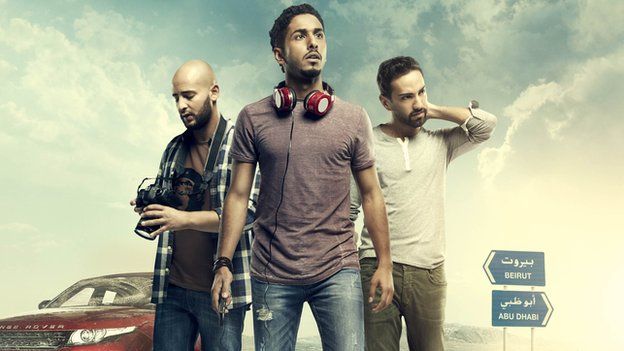 From A to B, a road trip comedy about three young Arab men who travel more than a thousand miles from Abu Dhabi to Beirut, seems to contain the A to Z of everything that's taboo in the Arab world.
It has references to homosexuality, jokes on masturbation, drunkenness and a Jewish love interest. It even has a semi-comic skirmish in Syria with a member of President Assad's regime. But any "shocking" content, according to its makers, says more about Western stereotyping than actual cultural beliefs.
"Whether this is a controversial film to make says more about the ignorance of people in the West than about people living here," comments Michael Garin, the CEO of Image Nation, an Abu Dhabi-based production house that made From A to B.
"I'd rather say that From A to B challenges an international audience to see that young men in this part of the world are no different to you and me. Perhaps their experiences are different, but the sense of humour and the pathos of their human relationships are universal, and part of the great appeal of the film."
The movie, made in English and Arabic, is the second by London-born Ali Mostafa, and opened this year's Abu Dhabi International Film Festival. Mostafa, who is half-British and based in Dubai, believes he's made a movie "about three regular guys. It's not supposed to be shocking - the comedy of a road trip comes from taking people out of their comfort zones, and that's what happens.
"I just take three young men - an Egyptian, a Saudi and a Syrian - who set off from Abu Dhabi on a trip to Beirut for New Year's Eve. Beirut is a party town but to get from the Gulf you have to cross Saudi Arabia, Jordan and Syria. These places just created their own stories, their own laughs."
One of the lead actors is played by Saudi Arabia's leading stand up comedian, Fahad Albutairi. According to Mostafa, "there was so much comedy potential in Saudi Arabia, because so much is forbidden.
Fahad brought other stand up comedians to play police officers who stop the guys, and arrest them for drunkenness, and supposedly lewd behaviour.
"Fahad and his friends are some of Saudi's most famous stars," adds the film's producer, Paul Baboudjian. "They have 35 million followers on their You Tube channel, they are pretty outrageous. We actually don't mind sensitive topics here in the Arab world, so many of us grew up in conflicts."
Sensitive subjects also include setting part of the film in Syria. As the film is set in December 2011, Mostafa believes it was essential to include a chapter in that country, "because firstly, you cannot get from Abu Dhabi to Beirut in a car without going through Syria.
"Three years ago, the situation was far less complicated - it was just Assad versus the people, and that was heart-wrenching enough. It's the most horrendous thing that has happened and I thought it was important to document it in some way.
"We couldn't film there back then - those scenes are done in Jordan - but of course, now the story couldn't go anywhere near Syria at all, From A to B would be impossible as a concept.
"I fought very hard to have part of the film set there, and I'm glad I did, it adds depth and a different tone, but it was important to keep the comedy, even there. People still laugh even in the middle of wars."
The road-trip-gone-wrong plot has led to the media anticipating it as "the Arab Hangover", but Image Nation's Michael Garin says, "we don't want to be the 'Arab' anything. We're trying to be the next Hangover full stop, we're trying to be the next film people want to see and it happens to be made in Abu Dhabi."
After an enthusiastic response from local audiences at the festival, From A to B will be shown at the American Film Market in Los Angeles next month with a view to an international release. Baboudjian believes that "it targets Arab youth and we haven't seen a pan-Arabian film in a long time, especially with three young people at the heart of it.
"Although we seem to be put in one category all the time, we have borders in the Arab world, and this is what we wanted to show in the film - in a funny way."
Mostafa's biggest hope is that it will be released in the UK, " as this film deserves to travel, I would love to show this film in Britain especially. It will show a whole different side to Arabia that people never knew existed."
The Abu Dhabi Film Festival runs until 1 November.
Related Internet Links
The BBC is not responsible for the content of external sites.