Christopher Nolan's Interstellar 'a flawed epic'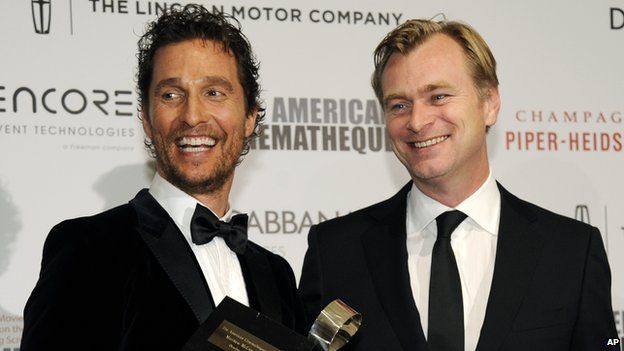 Christopher Nolan's epic new sci-fi film Interstellar has received measured acclaim from critics, who have praised its ambitious scale and effects but were less convinced about the story.
Matthew McConaughey and Anne Hathaway play astronauts who must find a new planet to replace a dying Earth.
The Telegraph said the Inception and Batman director had come "agonisingly close to forging his masterpiece".
The Guardian said Interstellar was "a glorious spectacle but a slight drama".
The three-hour film "looks remarkable" but "sporadically sways into the absurd", the paper's critic Henry Barnes wrote.
"Strident, overbearing, tangled up in plot-lines and bunged with theory, the director's first film post-Batman rockets its way to entertainment through Nolan's dogged force of will," Barnes declared.
The Telegraph's, Tim Robey marvelled at how Nolan had created "the most eerily beautiful vistas he's ever put on screen" and had tackled "all the big questions in one blockbuster package".
The $165m (£102m) film, which also stars Jessica Chastain, Michael Caine and Matt Damon, is "bound to be a front runner in this year's Oscar race" in the opinion of The Independent's Geoffrey Macnab.
It makes last year's Oscar winner Gravity seem "like a chamber piece by comparison", he wrote, concluding it "verges on the preposterous at times but... still has a considerable emotional kick".
Scott Foundas, chief critic of Hollywood bible Variety, was fulsome in his praise, describing Interstellar as "an exhilarating slalom through the wormholes of Christopher Nolan's vast imagination".
He wrote: "As visually and conceptually audacious as anything Nolan has yet done, the director's ninth feature also proves more emotionally accessible than his coolly cerebral thrillers and Batman movies."
The Hollywood Reporter's Todd McCarthy, meanwhile, said the film was "never less than engrossing, and sometimes more than that" and reactions would range "from the mesmeric to outright rejection for arguably hokey contrivances".
The Wrap's Alonso Duralde said it showed "the very best and the very worst of Nolan as a writer-director".
The "stunning portrayal" of space travel was balanced out by "a third act of staggering wrongheadedness, along with female characters whose intellect takes a backseat to their exploding emotionalism and rage", he said.
Similarly, Indie Wire's James Rocchi judged it to be "a confused mix of daringly unique space-travel footage like you've never seen and droningly familiar emotional and plot beats that you've seen all too many times before".
Despite bemoaning a script that "seems painfully humdrum for this astronomic scale", The Evening Standard's David Sexton wrote: "But maybe that's not what you go to a space opera for? As space operas go, this may yet be accounted one of the classics."
Meanwhile, writing in the Daily Mail, Brian Viner said Nolan had made "an intellectually-stimulating sci-fi film", although he "felt at times during Interstellar that he might have boldly gone for a stimulus too far".
He added: "There were moments when I wished I'd brushed up beforehand on my quantum physics. And other moments when I simply wished I'd emptied my bladder."
Interstellar is released on 7 November.
Related Internet Links
The BBC is not responsible for the content of external sites.