Singer Anais Mitchell's folk opera ambitions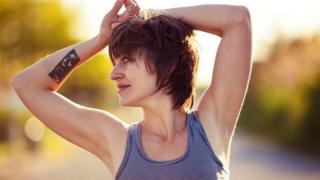 US folk singer Anais Mitchell has won rave reviews and awards for her epic and vivid story suites. Now she is working on a degree while on tour in order to turn them into musicals and operas.
Mitchell's solo albums Hadestown and Young Man In America proved her to be one of America's most captivating storytellers.
Hadestown, her "folk opera" released in 2010, transplanted the Greek myth of Orpheus and Eurydice to the Great Depression and featured Mitchell as Eurydice and Bon Iver's Justin Vernon as Orpheus.
On AnyDecentMusic.com, which collates album reviews from newspapers, magazines and websites, it has the joint highest average rating of any album released since the site began in 2009, with 8.9 out of 10.
Her follow-up, 2012's Young Man In America, featured mini-sagas on the theme of American masculinity. And last year, Child Ballads, her project to record traditional English and Scottish ballads with fellow singer Jefferson Hamer, won a BBC Folk Award.
Now, she has released an album, Xoa, of unreleased and re-recorded songs spanning the last decade, which she says marks the end of one era and the beginning of a new one.
That era will see a new stage version of Hadestown directed by Rachel Chavkin, whose production of Joseph Heller's Catch-22 recently toured the UK.
Mitchell has just begun a UK and Ireland concert tour - and while on the road is working on a distance learning masters in creative writing with a focus on music theatre.
---
Q. How is the new stage production of Hadestown coming along?
A. I've been writing a lot of new songs for the show, trying to preserve what was working about the piece as an album, but also to take it further and make it feel more full as a dramatic piece.
It's been a long process, to be honest, but I feel confident that we're really close. Hopefully, we'll get it up somewhere in the world next year. And after that we have our sights on New York City and London.
Q. Why have you been so keen to keep working on that project?
When I first started writing it, it was as long ago as 2005, and 2006 was when we first did a stage version. It was during the second administration of George W Bush and a lot of people felt a political helplessness.
Then, when the recession happened, a lot of the songs dealing with wealth and poverty became oddly relevant in this way that they hadn't been before. Then, when I started developing the new theatre stuff, we were doing a workshop in New York City and Hurricane Sandy happened just before the workshop and climate change was on everyone's minds.
It seemed that the show had something to say about that as well. So I guess the mythology is perennially relevant. The myth itself keeps giving.
Q. You're studying for an MFA [Master of Fine Arts] and recently wrote an essay on Les Miserables. What have you learned?
A. It's fascinating. I'm a big Les Mis fan and I have been for years. It's the pinnacle of the form. I've always wanted to really analyse how [composer Claude-Michel] Schonberg is repeating his musical themes. There's almost nothing in Les Mis that doesn't recur. It's so brilliant how that happens. I got really into that paper. I really geeked out.
Q. Are you doing the MFA so you can learn how to write more stage shows?
A. Yeah. That's the plan. I would like to do another opera. I had an idea then rolled up my sleeves and started making an outline, and I kinda got cold feet about it. Having worked on Hadestown for so long, I just want to be careful what story [I choose] because a lot of your life would go into it. It's got to be the right story.
Q. Your songs are not overtly political, but do you try to speak for the downtrodden and dispossessed?
A. I wouldn't have put it in those words, but certainly when I was young I was very inspired by protest music. My first record, Hymns for the Exiled, was very overtly political and I set out to do that.
Then there was a moment where I wrote a song called Out Of Pawn, which has to do with Hurricane Katrina. I had set out to write an angry political song and I just found that the language wouldn't come in the way that I was used to it coming. I just couldn't get up on the soapbox.
So the song ended up being this love story set in New Orleans just before the flood happens. I think that was a turning point for me, where I started to see my job as a storyteller, and that is separate from a polemicist.
Q. Your songs are not very confessional. Do you avoid putting yourself in songs?
A. I used to do it more often. The truth is there's probably more of me in the songs that seem to be from the perspective of someone else than I'd like to admit.
It's not just that I get inspired to tell someone else's story, it's that I have feelings that I want to express, but they need to get dressed up in some clothing, and the clothing ends up being some other character.
Q. Does an artist in your position make a living more from touring than record sales?
A. Absolutely. I would say most artists are in that position, unless they're a household name. Touring is the bread and butter and the album is almost like a calling card, although we love to make them. But they cost a lot of money to make and it's a gamble each time.
My manager and I started a record label together, and so we have a lot of control. But as far as money-making goes, touring is where it's at.
Anais Mitchell is on tour in the UK and Ireland until 28 November.