Paddington creator Michael Bond makes cameo in new film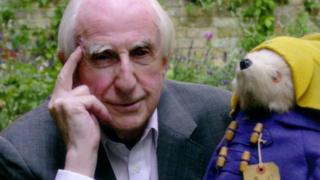 Paddington Bear creator Michael Bond is to make a cameo appearance in the film that will bring his beloved character to the big screen for the first time.
The 88-year-old will join an all-star cast including Hugh Bonneville, Nicole Kidman and Ben Whishaw, who will be the voice of the Peruvian bear.
Bond told BBC Radio 4's Front Row he had shot two scenes for the film, but only one will remain in the final cut.
The movie is due to be released in UK cinemas on 28 November.
The film adaptation of Paddington Bear will be one of the biggest children's releases in the run-up to Christmas.
Speaking about his appearance, Bond said: "It was a night-time shoot - I am sitting in a restaurant on my own by the window when Paddington goes past in a black taxi.
"He's just arrived in London for the first time and is going back with the Browns to their house. I catch his eye as he goes past and raise a glass to him."
The author has just produced the first Paddington novel to be written in the bear's own voice.
Love From Paddington is a series of letters written to his aunt Lucy in darkest Peru detailing his adventures in London.
"Paddington is very real to me so it was easy to find his voice," Bond said.
"I just imagine him walking along the street beside me and I try and see the world through his eyes."
The Paddington film's producers - who also made the Harry Potter movies - did not find the bear's voice easy to pin down.
They originally cast Oscar winner Colin Firth to be Paddington, but he pulled out, saying he did not feel he sounded right.
Bond has heard Wishaw's version of the character and said he was happy with it.
"When Paddington first appeared on TV as a short animation, we had terrible trouble finding the right person to voice him," he said.
He revealed that producers even tried out the Two Ronnies - Ronnie Barker and Ronnie Corbett - before settling on Michael Horden.
Since Bond's first book was published in 1958, some 35 million copies of the Paddington stories have sold worldwide and the tales have been translated into 40 languages.