Obituary: Acker Bilk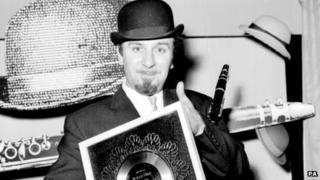 With his goatee beard, bowler hat and striped waistcoat, Acker Bilk was one of the most recognisable musicians of the post-war British trad jazz boom.
His 1961 record, the haunting Stranger on the Shore, was in the charts for more than 50 weeks and made him an international star.
He attributed his unique style of playing to the fact he had lost part of a finger while out sledging, as well as losing two front teeth during a school playground fight.
Bernard Stanley Bilk was born in Pensford, Somerset, in January 1929, the son of a Methodist lay preacher. His mother played the organ in the local chapel.
He died on 2 November 2014 aged 85 after a lengthy illness.
After a spell working at the Wills tobacco factory in Bristol, he went off to do his National Service in Egypt where he learned to play the clarinet and formed a band known as the Original Egyptian Stompers.
On his return home he worked for his uncle as a blacksmith but he had caught the music bug and formed another band, the Chew Valley Jazzmen, in 1953.
The following year later he tried his luck in London as a clarinet player with Ken Colyer's band, but soon returned to Somerset and formed his first Paramount Jazz Band.
Stranger on the Shore
The band's first big break was when they played seven days a week for six months in a bar in Düsseldorf which gave them plenty of opportunity to hone their skills as musicians.
By now he was widely known as Acker, Somerset dialect for mate. A publicity agent suggested he adopt the Edwardian costume, complete with bowler hat, that came to epitomise the trad jazz style.
At one time he employed a road manager, Alan Cutler, known as Adge, who would go on to find success with scrumpy and western outfit, The Wurzels.
Bilk, who referred to the clarinet as "that thing I stick in my head and blow", performed with all the major figures in British jazz including Chris Barber, Kenny Ball and George Melly.
But he appealed to more than just jazz lovers with his wistful signature tune, Stranger on the Shore, which became the theme for a BBC TV series.
Talented artist
An expanded version of a piece originally called Jenny - after his daughter - it stayed in the charts for 55 weeks and won four gold discs.
It also brought Acker Bilk the unique distinction of being the first artist have a simultaneous chart-topping hit in both the United Kingdom and the United States.
He said that he never tired of the tune he called Strangler on the Floor: generations of music lovers agreed.
Over the years Mr. Acker Bilk, as he liked to be called, toured in the Far East, Australia and Europe and made many television and radio appearances.
Besides Stranger on the Shore, Acker Bilk also had hits with tunes such as Summer Set and Buona Sera.
He sold millions of records and won an Ivor Novello award.
Acker Bilk, who was also a talented artist, married his childhood sweetheart, Jean, and they had a son and a daughter. He always retained his affection for Pensford and never lost his Somerset accent.
Contracting throat cancer in 2000 curtailed his singing abilities but he continued to play the clarinet, celebrating his 80th birthday in 2009 with a concert in Hampshire.
As he once told the Bristol Evening Post. "At my age, either you're dead or you're 80. And given that choice, I'd definitely rather be 80."