Katie Melua has spider removed from ear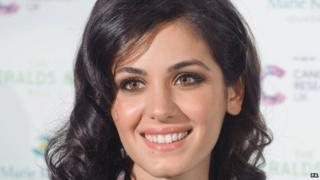 Singer Katie Melua has revealed she has had a live spider removed from her ear by a doctor.
Posting a video of the creature on her Instagram account, Melua wrote: "So I had a rustling in my ear for a week and went to the doctor. This little fella is what they found!"
Melua believes the spider climbed into earbud headphones she had used on a recent flight.
The spider was removed using a micro-vacuum and Melua took it home alive.
Her spokesperson said: "The ear specialist said he'd never in his career taken out a live bug before. Plenty of dead ones. When it was out, it was pretty tiny."
'Looked terrifying'
Melua wrote on Instagram: "Basically I used these old in-ear monitors to block out sound on a flight, little spider must have been in them and crawled inside my ear and stayed there for the week. It was no hassle at all, apart from the occasional shuffling noises...
"Though the thing looked TERRIFYING up-close on the doctor's camera, once he took him out (using a micro Hoover) it was pretty small, and now its in this little test tube, alive and seemingly fine."
The singer later released the spider into her garden.
Melua is best known for such hits as Nine Million Bicycles and The Closest Thing to Crazy.
Earlier this year, she hit the headlines after being named as one of hundreds of wealthy individuals involved in a tax avoidance scheme.
The Georgian-born singer explained on her website that she was "clueless and inexperienced" when she signed up to the scheme known as Liberty.
The 30-year-old said her financial advisors had suggested she use the tax strategy when she was in her early 20s.
The singer, who is a British citizen, said she made up the full amount of tax owed to the Treasury once the matter was drawn to her attention.