Peace record aims for Christmas number one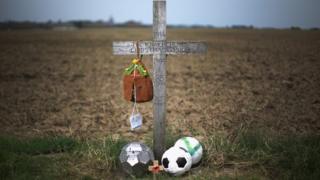 A charity song commemorating the football match truce during World War One is to take on the X Factor winner for the Christmas number one.
The cover of The Farm's Altogether Now is from the team behind the 2012 Hillsborough charity single.
The 1990 hit was inspired by the unofficial truce on Christmas Day 1914, when British and German soldiers left the trenches to play football.
Performers on the track include Suggs, Gabrielle and Holly Johnson.
The song has been recorded by the Peace Collective, which also features The Farm's Peter Hooton, Mick Jones from The Clash and The Proclaimers.
Other artists appearing are Guy Chambers, Jah Wobble, I Am Kloot, Gorgon City, former Wanted star Tom Parker and The Voice winner Jermain Jackman.
Two years ago, the group - then called The Justice Collective - beat the X Factor winner James Arthur to the Christmas number one with a cover of He Ain't Heavy He's My Brother, raising awareness of the Hillsborough Tragedy.
---
The famous "Christmas truce" of 1914
Late on Christmas Eve 1914, men of the British Expeditionary Force heard the Germans singing carols and patriotic songs and saw lanterns and small fir trees along their trenches.
Messages began to be shouted between the trenches. The following day, British and German soldiers met in No Man's Land and exchanged gifts, took photographs and some played football. They also buried casualties and repaired trenches and dugouts.
Some officers viewed the truce as a chance to improve living conditions in the trenches, while others worried that such unwarlike behaviour would undermine fighting spirit.
The High Commands on both sides took measures to ensure such fraternisation would not happen again, and the 1914 Christmas Truce remained a unique event on the Western Front.
Source: Imperial War Museum
---
The new track includes a backing choir of schoolboy footballers from clubs in the Premier League and the German Bundesliga.
The single will raise money for the British Red Cross and the Shorncliffe Trust, which is building a national education centre which will look at the social impact of military life.
Hooton said he wrote the song, a number four hit for the Liverpool band in 1990, to commemorate the "spontaneous act of humanity that transcended the horrors and barbarity of World War One and is a story which still resonates 100 years on.
"It is a story of hope and peace which should be told over and over again," he said.
"I'm so very proud that so many artistes from all styles of music and the football authorities have come together to promote peace and reconciliation this Christmas and raise funds for the brilliant work carried out by the British Red Cross and Shorncliffe Trust."