Tom Hanks to pen book of stories inspired by typewriter collection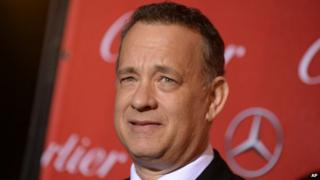 Actor Tom Hanks is to publish a book of short stories inspired by his personal collection of vintage typewriters.
"I've been collecting typewriters for no particular reason since 1978 - both manual and portable machines," he said.
The stories, the two-time Oscar-winner went on, "are not about the typewriters themselves, but... something that might have been written on one of them."
The Forrest Gump star recently had his first work of fiction, a sci-fi story, published in the New Yorker magazine.
The book, which will include photographs of Hanks' machines, is currently untitled and has no confirmed publication date.
The actor recently lent his name to a mobile app, Hanx Writer, that allows its users to simulate the experience of using a manual typewriter.
"I've been around great storytellers all my life," he told the New Yorker last month. "Like an enthusiastic student, I want to tell some of my own."
The 58-year-old recently reteamed with Saving Private Ryan director Steven Spielberg to shoot a Cold War spy thriller, set for release next year.