Gemma Arterton 'moved' by Made In Dagenham strikers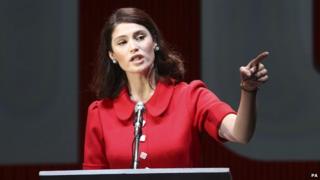 Gemma Arterton fought back tears when some of the real Ford women strikers joined her on stage on the opening night of new West End musical Made In Dagenham.
The former James Bond actress stars as Rita O'Grady, who led the sewing machinists' strike of 1968 over equal pay for women.
Four of the original Dagenham women - Sheila Douglass, Vera Sime, Eileen Pullen and Gwen Davis - joined her at the curtain call.
"I was really moved then, " she said.
"I was very emotional, just to know that everything that we've been doing for the last three years is because of them."
Arterton added: "It was so lovely, they got this huge applause. I think they were quite overwhelmed. Every single night I think about them and the continuing story of women's rights. It feels so current and vital and important to me."
The musical, at London's Adelphi Theatre, sees the 28-year-old actress - who played agent Strawberry Fields in Bond film Quantum of Solace - make her singing debut.
Among the stars in the audience on Wednesday night were Graham Norton, David Walliams, Russell Brand, Andrew Lloyd Webber, Mel C, Ben Miller and Rufus Hound.
The musical - based on the 2010 film - is written by Richard Bean, with music by David Arnold and lyrics by Richard Thomas, who wrote Jerry Springer: The Opera.
Bean, who had a hit with farce One Man, Two Guvnors, said he wished the Dagenham women could be on stage every night.
"Maybe we can cut the whole show and just bring the Dagenham ladies on," he joked. "It would be a three minute show and everyone could get home for Newsnight."
One of the four, Sheila Douglass, told the BBC that it was "emotional" being on stage. But she said that "not a great deal" had changed regarding equal pay for women in the 21st Century.
"Ladies have still got to fight for everything that they want. Nothing comes easily. Not like men. They ask for it and get it. We have to ask for it and fight for it."
The show's director Rupert Goold said the Dagenham strikers' humility had been a source of inspiration.
"We're only making a musical, it's not changing the world. But they did change the world... with such little sense of self importance or grandeur."
Author Kathy Lette, who was in the audience, said: "Women are still runners up in the human race. After that amazing victory we still don't have equal pay... we're getting concussion hitting our head on the glass ceiling - and we're supposed to clean it while we're up there."
---
Reviews round-up
"This show - with its slick, catchy tunes by David Arnold, Richard Thomas's droll, mischievous lyrics and a positively gag-infested book by Richard Bean - infectiously demonstrates that it's a saga well worth making a song and dance about." Paul Taylor, The Independent
"One could wonder how much more artistic mileage there is in historic British labour disputes - the equality seam has been overmined. But with its feel-good approach to a long-won battle for fairness, this show will win plenty of friends out for an evening's easy entertainment." Quentin Letts, Daily Mail
"Made in Dagenham is broad, occasionally crass and a little too manipulative (the final number is an especially brazen bid to get us on our feet). But it also manages to be robustly likeable — mixing passionate populism with bursts of big-budget flamboyance. Although I'm not convinced that it is in the end greater than the sum of its parts, those parts are pretty impressive." Henry Hitchings, London Evening Standard
"While it's perfectly engaging, the upbeat tone becomes faintly monotonous and the story is short on dramatic mileage. Former Bond girl Arterton possesses a fine singing voice, beauty and a commanding presence. But the show never digs that deep into its characters, flashes surprising amounts of female flesh considering it's flying the flag for empowerment, and would have been better off recycling some of the more memorable chart hits of the period; stand-out songs are scarce." Dominic Cavendish, The Telegraph
"Bunny Christie's design makes good use of the Ford plant's industrial machinery. Isla Blair as a dedicated shop steward, Sophie-Louise Dann as Barbara Castle and David Cardy as a trimming union man all give good performances. But, if I have left until last David Arnold's score, it is because it rarely rises above the functional and, like the show itself, strikes a feminist posture but lacks genuine passion." Michael Billington, The Guardian