How Dylan rocked our morning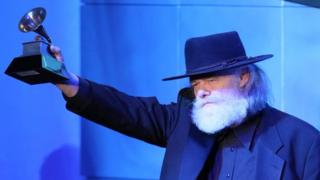 When Garth Hudson appeared on Radio 4's Today programme, the show was expecting a discussion on Bob Dylan's Basement Tape recordings. What it got instead was an impromptu piano performance of songs that will cause Dylan obsessives to salivate.
London rain, a tepid sunrise, the hum of a deserted office. Woodstock sunshine, the 'Big Pink', quarter-track recordings, the red room.
There aren't many similarities between an early morning November shift on Radio 4's Today Programme and the legend of Bob Dylan's basement session recordings in upstate rural New York in 1967, but last week these two worlds overlapped in perfect - well, almost perfect - harmony.
The programme had wanted to mark the release of Dylan's Complete Basement Tape recordings - the ones he recorded with laid-back session musicians while recovering from a motorbike accident at the height of his fame in the late 60s.
The story goes that, having changed popular music once with his experimental electric/folk/pop albums of 1965/66, he'd got bored of it all and wanted to go back to an earlier Americana blues and folk sound - thereby helping to change popular music all over again.
The tracks he recorded on a primitive tape recorder in the basement of the Woodstock residence known as the 'Big Pink' were never officially released, but were widely copied and handed out as bootleg copies at concerts around the world for years to come. So we thought covering the release of the recordings would be a welcome addition to the show.
"Let's get someone from The Band - the guys who played on the Basement Tapes with Dylan," said one of the show's producers in the previous day's editorial meeting.
"Yeah right, most of them are dead," replied another.
Rather surprisingly though, someone managed to do just this, and had booked Garth Hudson for an early morning pre-recorded interview at just past 04:15 GMT.
Hudson was keyboardist for The Band, and the person who played on, and actually recorded, most of the basement session recordings himself. His conversation with Today programme presenter Justin Webb went something like this:
Justin Webb: "What was the mood like for all of you at that time, during the sessions?"
Garth Hudson: "We were thinking, from beginning to end, that Bob Dylan was cool."
Justin Webb: "But what mood was he in?"
Garth Hudson: "As I told you, he was cool."
Justin Webb: "You're not going to go further than that?"
Garth Hudson: "There were no indications that he wasn't anything other than cool."
And so on, for about seven minutes. It is what happened next, though, that lifted a grey hum-drum autumn morning.
The interview had petered out and reached its natural end. Justin Webb had left the cramped studio cubicle. Then, as Today producer Jonathan Harvey remembers, Garth Hudson's wife came on the line.
"He wants to play you some songs," she said unexpectedly.
First, he played a ramshackle but rather bluesy version of Jerusalem.
Then - and this is where Dylan obsessives start to salivate - "a couple of songs we played [during the basement sessions] when the tape recorder wasn't on, One Too Many Mornings and Patriot Games."
What? The "lost" basement tracks, that couldn't be bootlegged because they hadn't even been recorded?
What follows - across a faint line from North America - is a rather beautiful, elegiac couple of songs, which, for some reason, Hudson decided to share with us all.
Henceforth these recordings will be known as, I trust, The Basement Tapes - The Today sessions. As Garth might have put it himself, pretty "cool".
Listen to BBC Radio 4's Today programme each weekday from 6-9am, and on Saturdays from 7-9am.