Big Hero 6 outperforms Interstellar at US box office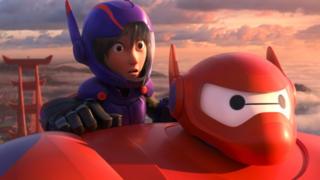 Animated robot tale Big Hero 6 has beaten star-studded space movie Interstellar into second place at the North America box office.
Disney's cartoon - based on characters from Marvel comics - amassed $56.2m (£35.3m), eclipsing Interstellar's takings of $50m (£31.4m).
But the sci-fi, starring Anne Hathaway and Matthew McConaughey, took first place in the global box office rundown.
Ouija and Nightcrawler, last week's joint number one, fell to four and six.
It is only the fourth time in US box office history that two films have opened with $50m or above, according to experts Rentrak.
Senior analyst Paul Dergarabedian said that Big Hero 6 and Interstellar "were both able to do well without cannibalising each other's audiences".
"It's a perfect example of counterprogramming. It paid off for the industry, and it just doesn't happen that often," he added.
Despite that, Mr Dergarabedian said the US box office had slipped 7% compared to the same weekend last year.
Interstellar, the latest film by Dark Knight and Inception director Christopher Nolan, which tells the story of astronauts who are searching for a habitable planet after the Earth is decimated by dust storms, cost $165m (£103m) to make.
It has inevitably been compared to last year's starry space epic Gravity, which had a bigger box office haul in its opening week.
The movie is likely to enjoy a further worldwide sales boost when it opens in China on Wednesday, while its makers have said they will target families and young men in a bid to sustain its ticket sales.
Walt Disney's head of distribution, Dave Hollis, said of Big Hero 6's success that "you need to transcend the family audience in order to a get a number like this".