Doctor Who: How was Peter Capaldi's debut series?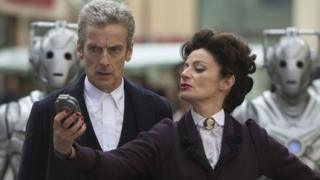 SPOILER ALERT: This article contains plot details
Doctor Who's eighth series reached its finale on Saturday with an hour-long episode that saw Peter Capaldi's Time Lord battling two old foes: The Cybermen and Missy - a female incarnation of his arch-enemy The Master.
So what do TV critics make of the Peter Capaldi's tenure as the Twelfth Doctor so far?
Death in Heaven had 5.45 million viewers, according to overnight figures. The story saw the Doctor being made President of the World and featured an affectionate tribute to Brigadier Lethbridge-Stewart, a regular character from the classic era of Doctor Who.
Hobbled by a later time slot and competition from The X Factor, the audience had dropped from the 7.3 million who watched Capaldi's season opener in August, Deep Breath, but critics have welcomed the Scottish star's tenure in the Tardis.
"The fine first series of Peter Capaldi's tenure in the Tardis ended on a high," wrote Michael Hogan in The Telegraph, adding that Death in Heaven "provided a series denouement that really delivered".
Noting that last week's episode, Dark Water, had attracted complaints from viewers disturbed by its plotline about death and cremation, Hogan said Death in Heaven "was lighter, less morbid and more of a sci-fi romp, but still chilling and shot in slate greys, like a Seventies horror film".
He said that with its darker tone, it was right that Doctor Who had been shifted to a later time slot.
"This has been a cracking series, with the show back to its darkly compelling best and Capaldi - clever, complex and unpredictably otherworldly - making the role truly his own."
Den of Geek's Simon Brew said Death in Heaven served as a "fitting conclusion" to both the events set up in Dark Water and the entire series. "It feels like Doctor Who has undergone a real resurgence of sorts with him in the Tardis, and his Doctor remains one you can barely keep your eyes off."
But The Mirror's Richard Beech looked back on series eight with mixed feelings.
"I still have a weird and slightly confusing longing for Matt Smith, but I've accepted he's gone, and Capaldi is resplendently terrifying and entertaining," he said.
"There were some real dud episodes in the series, but probably no more so than in series seven, which got a bit convoluted. And that's a big point we should be making.
"This series was very easy to follow, is that good or bad? Everyone will have a different view on that, but nobody complained about it being confusing."
The Independent's Ellen E Jones said that while the finale's zombie-Cybermen "weren't scary enough", Michelle Gomez as Missy was one of its triumphs.
"Like Hannibal Lecter in a Mary Poppins outfit, Missy was an unsettling mix of prim and predatory, even while shackled to an upright gurney."
Christopher Campbell, writing for Film School Rejects, agreed.
"The female incarnate of the Master is one of the most enjoyable villains I've seen in a long time, on television or in the movies. She's a wicked blend of Bond nemesis and evil Mary Poppins (with a dash of Marilyn Monroe impersonation), and it's probably for the best that I was left wanting more".
There was also praise for Jenna Coleman's portrayal of companion Clara from Digital Spy's Morgan Jeffery.
"She's been a bit of a revelation these past 12 episodes, with Moffat and his writing team granting Clara all the vim, vigour and personality she was sorely lacking before," he wrote.
He said series eight had delivered "thoughtful, emotional, stunning episodes" like Listen, alongside "complete clunkers" like In The Forest of the Night.
"But just as Death in Heaven left me mostly satisfied, there's been enough right with this series to leave me optimistic for Doctor Who's future.
"Chief among its selling points has been a fantastic, fascinating lead performance from Peter Capaldi and with the growing pains of this era out of the way, I have a feeling series nine could be something very special indeed."