Damien Rice: Back in the spotlight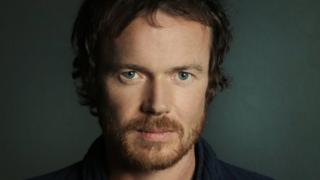 A lot has changed since Damien Rice released his last album, 9, eight years ago.
The Irish singer-songwriter split with his band and Lisa Hannigan - his long-time vocal collaborator and then girlfriend - and decided to take a year off.
That year "turned into two, which turned into three" he explains, although his songwriting continued on and off.
Rice's debut, 2002's O, sold more than two million copies worldwide, while 2006's 9 went platinum in the UK but the award-winning artist - best known for raw, unflinchingly honest tracks such as Cannonball and Volcano - was struggling to find his mojo for his third album.
"I was writing songs but I wasn't connected to the lyrics that were coming out. The songs would happen and I would enjoy them at the time but when I listened back it wasn't what I wanted to be expressing," he explains.
"I think I had a lot of old leaves to sweep up and move off my driveway so that I could get out of the place I'd been on and then move on to somewhere new. And part of that process was getting a load of those songs out of my system."
Clearly, Rice was going through something of an epiphany during that time: "I went through quite a change in terms of the way I think about life and way I think about the world. It's very different now than how I used to (look at it) eight years ago.
"Before, I used to be more connected with my upbringing and the thoughts and beliefs that I would have taken on as a kid, the list of things that are right and wrong, good and bad... I now don't see something as good or bad, it's either happening or it's not."
Part of this different approach means that Rice, renowned for his often heart-rending and vulnerable performances, doesn't believe it's possible "to have your heart broken anymore".
"Whereas before I'd have thought someone had hurt my feelings, now it's all on me, it creates a very different perspective on life... I can't blame anybody for everything. It's all just stuff happening."
The new album - titled My Favourite Faded Fantasy - was eventually recorded in Malibu, Los Angeles, and then, in stark contrast, Iceland.
Of the latter, Rice says: "There's even an advantage in the weather, it's good for getting work done as you don't really want to go outside."
The record, created with legendary producer Rick Rubin, only contains eight tracks.
"We started with between 40 and 50 (songs), did 32 demos with Rick, then got it down," says Rice.
"The main reason I picked the ones that were there is they were songs I could press play and listen to on repeat. Some of them were growers but when they sank in it was comfortable for me to go back in and I could find something new.
"Some were immediate and then you're just tired of them afterwards."
One thing that hasn't changed in the last eight years is the 40-year-old's barely concealed contempt for the commercial aspect of the music industry.
His single Cannonball was picked as the winner's song for the The X Factor in its eighth series and was released by winners Little Mix in December 2011, topping the British singles chart in the first week of release.
But Rice had no say in that decision.
"Anything I have control over, I control. Adverts I have control over, nobody can use a song without asking permission," he says.
"Once you release something into the public, anybody can make a cover of it. X Factor can cover whatever they want. That's the part that's a little disappointing. People think you've cut some deal for money, I haven't seen any lump sum of money from that thing at all.
"People say 'ooh, big Christmas bonus', I didn't see a Christmas bonus! There's not as much money in these things as people make out."
Rice's response to the Little Mix release was to give away a substantial amount of money.
"After the X Factor thing, straight away I donated a bunch of money to Haiti (he reportedly paid $500,000 for Bono's guitar at a charity auction in January 2012) to cleanse myself of any possible X Factor money that could come in. I have no interest in that."
And while the likes of U2 may be able to afford to give away their music for free, Rice says he's unlikely to make anything from his latest release.
"I've spent so much money making this record, the chances of me making any money on it are highly unlikely. I spent a lot of time recording, carving and crafting, a lot of musicians, it's a very layered and wide record... but it is what it is.
"My job is to focus on being as much in the flow as possible and creating music with as much integrity as possible. That's what I consider to be my job, the rest of it, they're passers-by."
Despite his distaste for the trappings of being a successful recording artist, Rice still feels a strong urge to release his work.
"I guess there's desire in me to be able to create a piece of art... a record that I can put on and that satisfies me in a way that other records have satisfied me from other artists. There's this craving to create this solid thing to be able to share."
So once his music is "out there", does he care what the critics think?
"I've asked management to keep all reviews out of my sight, I don't want to know anything. It's none of my business. It can be distracting. If you are looking for a good review, you're looking to boost your ego, and if you're looking for negative things in a review then you're looking for those things you want to beat yourself up with. I'm not interested in doing either... I want to stay centred."
While lots of people worked on My Favourite Faded Fantasy, Rice says he's unlikely to replicate the intense collaboration he had with Hannigan and his previous band.
"We had this interdependent relationship with each other. I don't like entertaining those kind of relationships anymore. I'm intending to move away from drama, anything dramatic, someone running out, some childhood insecurity, putting it on me or me putting it on them.
"I like to be stopped if anyone catches me doing something like that. I'm going to be dead soon and I want to kind of grow up before I die."
Damien Rice's album My Favourite Faded Fantasy is out now. He has four upcoming tour dates in the US and Canada, starting with Chicago on 14 November.