Jennifer Lawrence walks the Hunger Games red carpet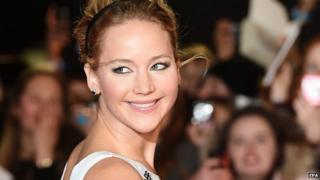 Jennifer Lawrence has joined her castmates at the world premiere of the penultimate Hunger Games movie, Mockingjay Part 1, in London.
The 24-year-old actress spent time signing autographs and posing for fan selfies at the event on Monday night.
Lawrence has reprised her role as Katniss Everdeen in the adaptations of the best-selling teen fiction books.
The film also features one of the final screen performances of late actor Philip Seymour Hoffman.
Speaking at the press conference earlier in the day, director Francis Lawrence described Hoffman's death in February as "a horrible, horrible thing," adding "he was a friend, he was a great guy, he was a fantastic actor and it was something we never got over".
At the film's premiere in Leicester Square, fans queued for hours to catch a glimpse of stars including Oscar-nominee Julianne Moore, Donald Sutherland and British actors Sam Claflin and Natalie Dormer.
Lawrence told reporters: "It's amazing to see so many fans here. Someone gave me a photo of a Shetland pony to sign. I don't know what it means but it's still making me laugh now."
New Zealand singer Lorde wrote and composed the theme song from the film, which is due to be released in the UK on 21 November.
She told reporters she found inspiration for the track Yellow Flicker Beat - which is played in full over the film's closing credits - by "watching the little clips of the film that I was allowed to watch six months ago".
The final book in writer Suzanne Collin's futuristic dystopian trilogy has been split into two films, with Part 2 due out next year.
The two films which have so far been released have earned a combined $1.5bn (£950m) at the box office worldwide.
The Hunger Games is set to be made into a stage show in summer 2016.
The "innovative" stage adaptation will launch in a purpose-built theatre next to Wembley Stadium in London.