Woman 'maces man' at Los Angeles Mr Turner screening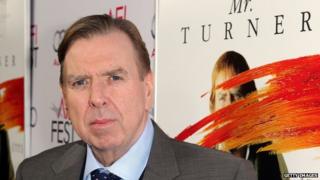 A man who asked a woman to turn off her mobile phone during a screening of Mike Leigh's Mr Turner was sprayed in the face with mace, it has been claimed.
The alleged encounter took place at an American Film Institute (AFI) screening at the TCL Chinese Theatre in Hollywood on Monday, the Hollywood Reporter said.
The unidentified woman was subsequently escorted from the cinema by security.
An AFI spokeswoman confirmed there was "an incident" that had been "handled", and that "everyone [was] OK".
The alleged altercation took place after the woman was repeatedly requested to refrain from using her mobile device near the beginning of the screening.
Texting row
The woman reportedly took umbrage, took a canister of mace from her handbag and sprayed the unnamed man, who left the cinema with a companion.
Mr Turner, a biopic of the English painter JMW Turner starring Timothy Spall, will receive a limited release in the US on 19 December.
It is now Mike Leigh's highest-grossing film in the UK, having made more than £2.67 million since arriving in cinemas on 31 October.
Monday's incident follows another dispute about texting in Florida in January during a screening of war film Lone Survivor that led to the fatal shooting of a 43-year-old man.
Spall was at the Chinese Theatre himself on Sunday at a special screening of Leigh's critically acclaimed latest work.