Survivor singer Jimi Jamison died of drug-related stroke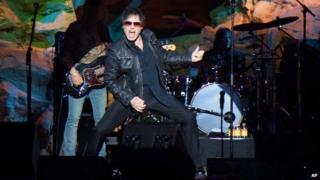 Jimi Jamison, lead singer with US rock band Survivor, died of a stroke with "acute methamphetamine intoxication contributing", a post-mortem has found.
The report said Jamison, who died on 1 September aged 63, had cardiovascular disease and narrowing of the arteries.
Jamison, who joined Survivor in 1984, co-wrote and sang I'm Always Here, the theme tune for hit TV series Baywatch.
He also performed back-up vocals for recordings by ZZ Top, Jeff Healy Band and other recording artists.
Jamison was not a member of Survivor when the band scored its biggest success with 1982 hit The Eye of the Tiger.
But he did appear on such tracks as High on You, The Search is Over and Burning Heart, written for 1985's Rocky IV.
Jamison, who was also a member of Target and Cobra, left Survivor in 2006 but rejoined the band in 2011.
After his death, his bandmates said their "time spent with 'Jamo' is time that we will hold close and dear to our hearts".