Malorie Blackman calls on teenagers to 'remix' literature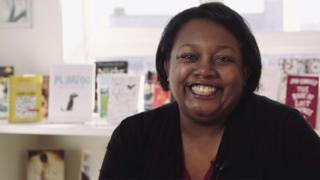 Children's Laureate Malorie Blackman has called on teenagers to "remix" some of Britain's best-loved books.
"Imagine Austen's Pride and Prejudice remixed into a drum and bass anthem," she said, or: "The Hunger Games re-imagined as a vibrant comic strip."
The competition, called Project Remix, is aimed at helping readers aged 13 to 19 harness their creativity.
"Too often this creative spark is left to flicker precariously and sometimes fade entirely," said Blackman.
"Project Remix is all about fuelling that inventive spark, encouraging young people to view literature in fresh and exciting ways, putting creative control directly back into their hands."
The competition was inspired by the growth of online fan fiction and fan art - where readers create new works based on their favourite characters.
The movement famously spawned EL James's worldwide best-seller 50 Shades of Grey, which began life as a tribute to the Twilight books.
Prize ceremony
Blackman, whose Noughts and Crosses series is a classroom staple, said she had the idea for Project Remix when she was appointed Children's Laureate last year.
"I think fan fiction is the way most writers start, and the same goes for music and design.
"When I wrote Noughts and Crosses, I was half way through it when I realised this was very like Romeo and Juliet.
"As long as you make it your own, and put your own spin on it, I think it's brilliant to use other great work to find your own voice."
Twenty-four books have been chosen as the competition's source material - including classics like Hound of the Baskervilles and Dracula, as well as contemporary novels like The Fault In Our Stars and Northern Lights.
Entries can be made in one of five categories: Creative writing, comic strip, cover design, trailer, or music.
Winners and runners-up will be invited to an awards ceremony, and prizes will reflect the respective categories, including a day at a music studio and an editorial critique session from a top Random House editor.
More details can be found at projectremix.co.uk