Lego Movie 2 'will feature more female characters'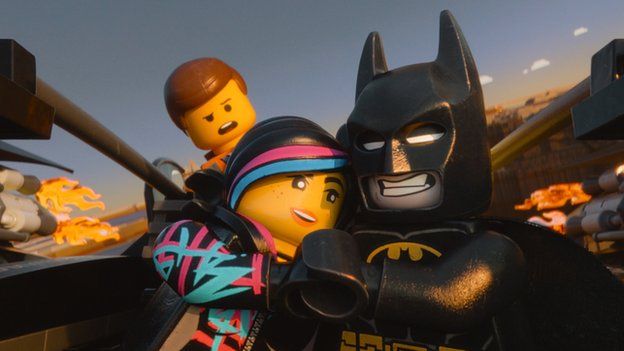 The film industry is waking up to the fact that it needs to better represent female audiences, says one of Hollywood's most successful writing teams.
Phil Lord and Christopher Miller, who wrote and directed the Lego Movie, have said they will create more female role models for the sequel.
"It's important to us that the movie plays broadly and that we inspire young women as much as we inspire young men," Lord told the BBC.
With the Lego Movie and 22 Jump Street, Lord and Miller are responsible for two of the highest-grossing films at the US box office in 2014.
The Lego Movie has made more than $468m (£294m) worldwide, and the pair will also write and produce the follow-up, which is due out in 2018.
The Lego toy company made headlines in August when it released a set of three female scientist figures - a palaeontologist, an astronomer, and a chemist - but it has also faced criticism for the predominantly pink Lego Friends range, which is aimed at young girls,
Asked what female roles were planned for Lego Movie 2, Miller said: "I don't want to give spoilers but there will be more female characters and more female stuff."
He wouldn't reveal whether the lead character would be female.
Recent females leads in animated feature films include the princesses Merida in Brave and Anna in Frozen. Both films won Oscars for best animated feature.
The first Lego Movie featured a male protagonist Emmet Brickowski (voiced by Chris Pratt), a construction worker whose "love interest" is Wyldestyle (Elizabeth Banks), a freedom fighter with "a strong, independent streak".
"You can feel that the whole movie culture is now starting to wake up to the fact that half the audience are women," Lord said. "Frozen is reflective of that - and I think we are all going to find a great flourishing of women film makers and subject matter in the future."
Miller added: "There's been a real shortage of [female protagonists] in recent years and I think that the near future will be very different."
The pair, who also wrote and directed the 2009 hit Cloudy with a Chance of Meatballs, said that they had no more than a plot outline for Lego Movie 2.
"You would think there would be be more pieces in place but all we've written is 'Fade in..,'" said Lord.
"I'm certain [that] many broad elements of it will change by the time the movie comes out because that's the way the way that it works," Miller added. "It's like Lego itself - you can take it apart and put it back together in a different shape."
Related Internet Links
The BBC is not responsible for the content of external sites.