In pictures: Warren Clarke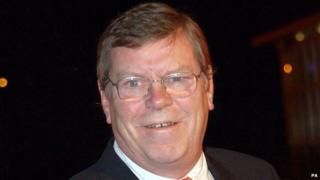 Actor Warren Clarke, who has died after a short illness at the age of 67, had a long and distinguished career in film and especially television drama.
Born Alan Clarke in Oldham in 1947, he began his career working at the Manchester Evening News before an interest in amateur dramatics took him onto the stage.
He made his first TV appearance towards the end of the 1960s and went on to appear in four episodes of Coronation Street, sharing scenes with Elsie Tanner, played by Pat Phoenix.
His stocky build and bulldog features made him an ideal actor to portray Winston Churchill, an icon he first essayed in Thames Television's 1974 mini-series Jennie: Lady Randolph Churchill. Anna Fox played Winston's wife Clementine.
His looks also suited the works, and characters, of Charles Dickens. This image from the BBC's 1976 dramatisation of Our Mutual Friend shows him playing Bradley Headstone opposite John Collin's Rogue Riderhood.
The same year saw him disguise those features for the role of bell-ringing outcast Quasimodo in an adaptation of The Hunchback of Notre Dame.
He made himself equally unrecognisable for a BBC production of William Shakespeare's The Tempest, which saw him play the "poor credulous monster" Caliban opposite Sir Michael Hordern's Prospero.
Clarke made sporadic film appearances over the years, notably in Stanley Kubrick's A Clockwork Orange and with Clint Eastwood in Firefox. He would later recall giving Eastwood a suggestion of how he might direct a scene they shared together.
Clarke was no stranger to villainous roles and played his fair share of Nazis. Among them was Colonel Werner Krieger, the Gestapo officer on the trail of Kate Buffery and Suzanna Hamilton's undercover operatives in World War Two spy drama Wish Me Luck.
Yet it was Clarke who did the spying in 1991 TV comedy Sleepers, in which he and Nigel Havers played undercover KGB agents in Britain who find themselves no longer needed in the Glasnost era.
In 1996 Clarke made his first appearance as Detective Superintendent Andy Dalziel in Dalziel And Pascoe, the TV police drama for which he was best known. Colin Buchanan played his partner, Detective Inspector Peter Pascoe.
Based on characters created by Reginald Hill, the series saw his grumpy policeman repeatedly land in hot water - and cold water too, as this still from a 2002 episode demonstrates.
Clarke was seen in period dress in 1998's A Respectable Trade, an adaptation of Philippa Gregory's novel about slavery in 18th Century England. The actor played Bristol trader Josiah Cole in the drama, which also featured Jenny Agutter, Simon Williams and Emma Fielding.
In recent years, though, he was more often found in modern garb. BBC sitcom In with the Flynns, for example, saw him as Jim, the fishing-mad father of Will Mellor's family man Liam.