The Bible tops 'most influential' book survey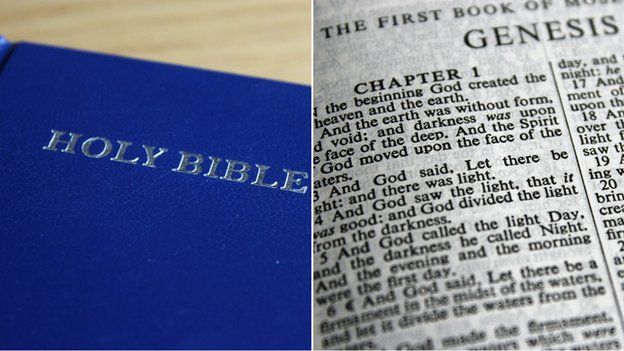 The Bible has been named the world's most influential book in a nationwide survey for the Folio Society.
The YouGov poll asked people to rank books from a list of 30 works chosen by The Folio Society, according to their significance in today's world.
The Bible topped the poll, with 37% of the vote - ahead of Charles Darwin's On the Origin of Species, with 35%.
A Brief History of Time, Orwell's Nineteen Eighty-Four and To Kill A Mockingbird completed the top five.
The ten books voted most valuable to humanity
2) The Origin of Species (35%)
3) A Brief History of Time (17%)
5) Nineteen-Eighty-Four (14%)
6) Principia Mathematica (12%)
7) To Kill a Mockingbird (10%)
9) The Wealth of Nations (7%)
10) The Double Helix (6%)
The Folio Society's survey of 2,044 British adults asked those polled to make their selection based, not on enjoyment or popularity, but for their influence on humanity.
There was some disparity among men and women, with men choosing On the Origin of Species as their number one most influential book, claiming that it answers "the fundamental questions of human existence".
Women favoured the Bible, which they argued contains the "guidelines to be a good person".
Nineteen-Eighty-Four was the only fictional title in the men's top five (at number four), while Harper Lee's To Kill A Mockingbird was the only fictional title in the women's top five (at number five).
Respondents also cited Catch 22, Lord of the Rings, the Highway Code and the Oxford English Dictionary among the books they felt had had a profound effect on humanity.
Related Internet Links
The BBC is not responsible for the content of external sites.