TV On The Radio return reinvigorated after tragedy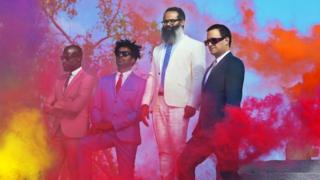 As TV On The Radio return for their first album since the death of bassist Gerard Smith, the Brooklyn band talk about success, music and maintaining a sense of mystery.
"If everybody likes you, you're probably doing something wrong," suggests TV On The Radio singer Tunde Adebimpe.
Ahead of the release of their fifth album Seeds, the New Yorkers are pondering fame and success in a London hotel room.
"You're probably doing something that might be a little evil," Adebimpe adds, smiling.
The good (or bad) news is that TV On The Radio's follow up to 2011's Nine Types of Light could be their most enjoyable album yet.
The driving guitar riffs and catchy chorus on lead track Happy Idiot - equally as memorable as the video featuring ex-Doctor Who sidekick Karen Gillian and Pee Wee Herman as a racing driver - are just one example of why.
Critics and fans have been in a tizz over the band's eclectic influences and art-rock sounds for years, celebrating albums such as 2008's Dear Science and Return To Cookie Mountain.
But Adebimpe admits they feel different about Seeds; in a statement he billed it as "the best thing we've ever done", although he's a little more modest in person.
"I'm definitely excited for other people to hear it. I've never really been in that mind-set before," he says.
"I feel way better about this record way sooner than I have with anything else that we've done.
"Now I'll listen to records we did four years ago and I'm like: 'Oh ok, I totally get that - it's pretty good.'
"But at the time… your perspective is a little bit skewed."
'Constant presence'
The album marks new beginnings, both on a different record label and their first release as a four-piece, following the death of bass player Gerard Smith. He died from lung cancer aged 36, just as their last album was being released.
The band don't want to dwell on their loss, but have called Smith an "inspiration" and a "constant presence".
The night before we meet, Adebimpe leaves the stage with tears in his eyes after closing an intimate London show with their classic track Starring At The Sun.
Despite the obvious emotion, he says the new tracks on Seeds are "really fun to play" and the rapturous loyal fans squeezed into the venue Oslo in Hackney, east London leave impressed.
The album was recorded in LA, where their guitarist David Sitek - who produced the album and has worked with bands from Yeah Yeah Yeahs to Beady Eye - lives.
They had plenty to go on too, after coming armed with more than 60 potential tracks.
"We brought in all of the demos we'd done during our time off - and it was a lot of time off, so we had a lot of things," says Adebimpe.
"Then there's a 'weeding out' process. We were in Dave's studio - a room in his house - basically just hanging out, so it was easy if you had an idea just to go and work on that song."
More than a decade making music together, and 'maturing' in each other's company, have had their benefits.
"I think it's a little bit more about being worn out than mature," laughs guitarist Kyp Malone.
"Everything that you were wrapped up in or had the energy to freak out about, you're kind of like 'eh, it's not such a big deal'.
"It's like, 'I don't have to take this person's anger seriously because I know it's going to disappear in five minutes'."
Seeds wasn't supposed to have a theme - purely because "we don't really ever have a meeting at the beginning and say 'we have to get across the idea of world peace on this record, no matter what happens'."
But they ended up ruminating on relationships.
"Ultimately a relationship should be, and is, transformative. With this record it's about looking at the positive and negative sides to realise they're completely meshed in each other, that's just the way it is," says Adebimpe.
"Instead of saying 'this is completely wrong' or 'this is right', it's right to the point that everything else is wrong."
The singer cites Careful You - a song whose mash up of French and English lyrics veer between a love song and a breakup song - as a fine example. "It's both."
'Shameless self-promotion'
The band admit they struggle with the relatively new idea of having to connect with fans off stage as well as on.
"We're stepping into the early 2000s with social media," laughs Adebimpe.
His bandmate Jaleel Bunton chips in: "There is an element of shameless self-promotion that's naturally entwined with social media that is just not really in our DNA."
"You're not supposed to do that inside of the music communities that we came from," adds Malone. "But apparently, that's ok now!"
"It's easy to do, we just… are not from that time," says Adebimpe.
"I don't want to use the word old, because I know people that are like much older than us that actually have a better handle on social media.
"But I just feel like when we were growing up and discovering music we didn't necessarily need to talk to the people that were making it. There's a lot more mystery that way."
Lusting after fame has never been high on TV On The Radio's agenda.
"If you start trying to chase fans down in a way, then what are you doing?" asks Bunton.
"I feel really lucky to have the fans that we have, but I was very prepared to make this music and not have any fans too.
"You have to have faith that the thing you make will draw the people it's supposed to draw - and hopefully it will draw all the people in the world but if it doesn't, what are you going to do?"
"That's too much!" interrupts Malone. "All the people is too much."
Seeds is released on 17 November.