The best way to get a headline: Hire a celebrity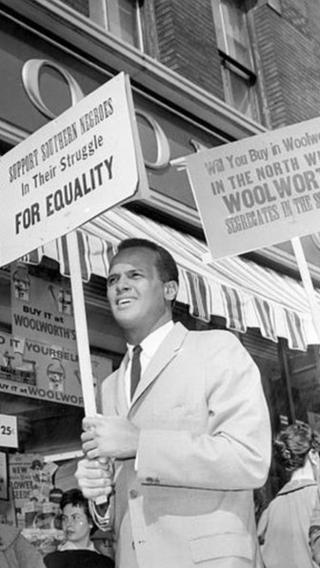 Imagine this. A knock at the door, you open it, and standing there is John F Kennedy on the threshold of becoming President of the United States of America.
He has been seeking a meeting with you for weeks and says he needs your help to bring him millions of votes.
The man he was visiting was the actor and 'King of Calypso" Harry Belafonte and Mr Belafonte was far from impressed.
Kennedy, he said, seemed to understand little about the problems of America's black population.
However, he did tell him that the man he should be speaking to was Dr Martin Luther King Jr.
Kennedy was reluctant to alienate his white southern vote but when Dr King was imprisoned, he and his brother, Bobby, spoke up in his support.
In return, Dr King thanked him for his "moral courage".
Kennedy won the election by a hair's breadth and took 68% of the black vote, 7% more than the previous Democrat candidate Adlai Stevenson.
There is a long history to the close relationship between politicians and celebrity.
The forerunner of the FBI, the Bureau of Investigation was worrying about star power and political agitation as far back as 1918.
The reason? They are, to a degree, in the same business - attention.
We may say it has absolutely no effect on us. Ipsos-Mori says the public overwhelmingly claim a celebrity endorsement "makes no difference whatsoever" to their voting intentions. But when it comes to creating attention it simply makes sense - you go to the experts, and they are called celebrities.
'Powerful sneezers'
In a recent poll by Mori, Angelina Jolie topped the list of celebrities the public felt had made a positive contribution to politics.
Russell Brand came bottom. However, while a lot of people may not like him, no-one can question his ability to attract attention, especially amongst the young.
When Leonardo DiCaprio lectured the United Nations Climate Change Summit in September he said he spoke not as an expert but as "a concerned citizen."
The speech from this UN "Messenger of Peace" lasted less than three minutes and generated more press coverage than the contribution of either Ban Ki Moon or Barack Obama.
Measured purely in terms of column inches it was hugely successful and it is a tried and tested strategy by the UN.
Indeed, this year is the 60th anniversary of the UN's embrace of celebrity politics.
Their first ambassador-at-large was Hollywood star Danny Kaye. Unicef has, over the years, enlisted a group that includes Nana Mouskouri, and Manchester United and Ireland's Eurovision hopeful, Dustin the Turkey.
Moreover, the ability to attract attention is becoming increasingly marketable.
Calculating celebrity power used to be limited to a tiny elite but the more we understand about how ideas and opinions are spread, the more politicians and businesses are looking at everyone's level of "celebrity".
If you want to convince people of something, it really helps if you have a grasp of what the writer and marketer Seth Godin calls "powerful sneezers".
'George Clooney, without question'
So, let's start at the top.
Who should you turn to first if you want a bit of star power to boost your electoral chances?
Prof Barrie Gunter, author of Celebrity Capital, barely hesitated when I asked him.
"'George Clooney, without question. Famous, credible and now with extra stability."
We may say we are not influenced by celebrity but he says there is "reliable statistical evidence" that we are and there is a growing industry trying to put numbers to that power.
One of them is the "Q score".
"Tom Hanks, I'd definitely go for Tom Hanks."
Henry Schafer, of Marketing Evaluations, who drew up the "Q scores" of celebrity power, knew who he would call on if he was running for office.
He should know. It's the 50th anniversary of the Q score and they have been calculating how well-known and how well-liked the top 1,850 celebrities are every six months.
Some 83% of Americans know who Tom Hanks is and his likeability - his Q score - is a very high 39.
Clint Eastwood is on 82% with an even more impressive Q of 50.
Mitt Romney was very well advised when he invited him to the Republican Convention.
Of course, Q scores cannot measure the likelihood of someone making a rambling speech addressed to an empty chair.
The score, he says, is not really related to fame but "awareness and emotional bond".
"It's all about credibility."
That's why Kennedy went to Belafonte.
There were no Q scores in 1959 but the hunch was that when it came to trust, respect and credibility among black voters, Harry Belafonte was the man to go to after their first choice, the baseball star Jackie Robinson, had decided to endorse his rival Richard Nixon.
'Smosh versus Jolie'
However, if you want to reach as many people as possible one or two celebrities will never be enough.
In 2012, Barack Obama had 228 acting endorsements, Mitt Romney had 45.
Comedians split 23 to seven, adult entertainment performers eight to three. Nascar and wrestling swung to Romney.
This though is only the beginning.
Political campaigns are increasingly being waged online and success depends on understanding the algorithms of influence and connection.
Social media offers a window on exactly who we engage with and who really are the "powerful sneezers" in our life.
Take Klout, it tracks 500 million people, 15 billion daily pieces of information and 10,000 subject areas.
The investor Warren Buffett, of Berkshire Hathaway, doesn't tweet very often but when he speaks, people listen. His Klout score is 86.
I also tweet to a small band of tolerant souls willing to have me clutter their timeline. My score is a rather humble 45. (The scale is like a logarithm, the gap between 45 and 55 is rather smaller than that between 85 and 86.)
What it suggests is a future in which our own level of celebrity and influence will be something that we can calculate and track.
Your celebrity score may well become a vital piece of information on future job applications. It also helps reveal the shifting landscape of fame.
Take Tom Hanks, he may be famous but still 17% of Americans aren't aware of him. Variety recently identified the biggest stars amongst 13- to 18-year-olds in the US.
Top of the list was the comedy duo Smosh and behind them another comedy duo, the Fine Bros. Heard of them? No, me neither but hey - it's been a long time since I was 18.
But if you really want to know who is influential in your life - there was a clue in a recent paper published in the journal Nature.
Facebook took part in an experiment in which people were shown messages encouraging them to vote.
The ones that seemed to work were those linked to your best friends.
James Fowler from the University of California in San Diego said it was clear that only "the closest 10 friends on Facebook mattered; the other 140 didn't matter at all".
When it comes to politics, celebrity works if you want to grab a headline or make some noise.
But if you really want to influence people - it's friends that count.